Categories >
Other Services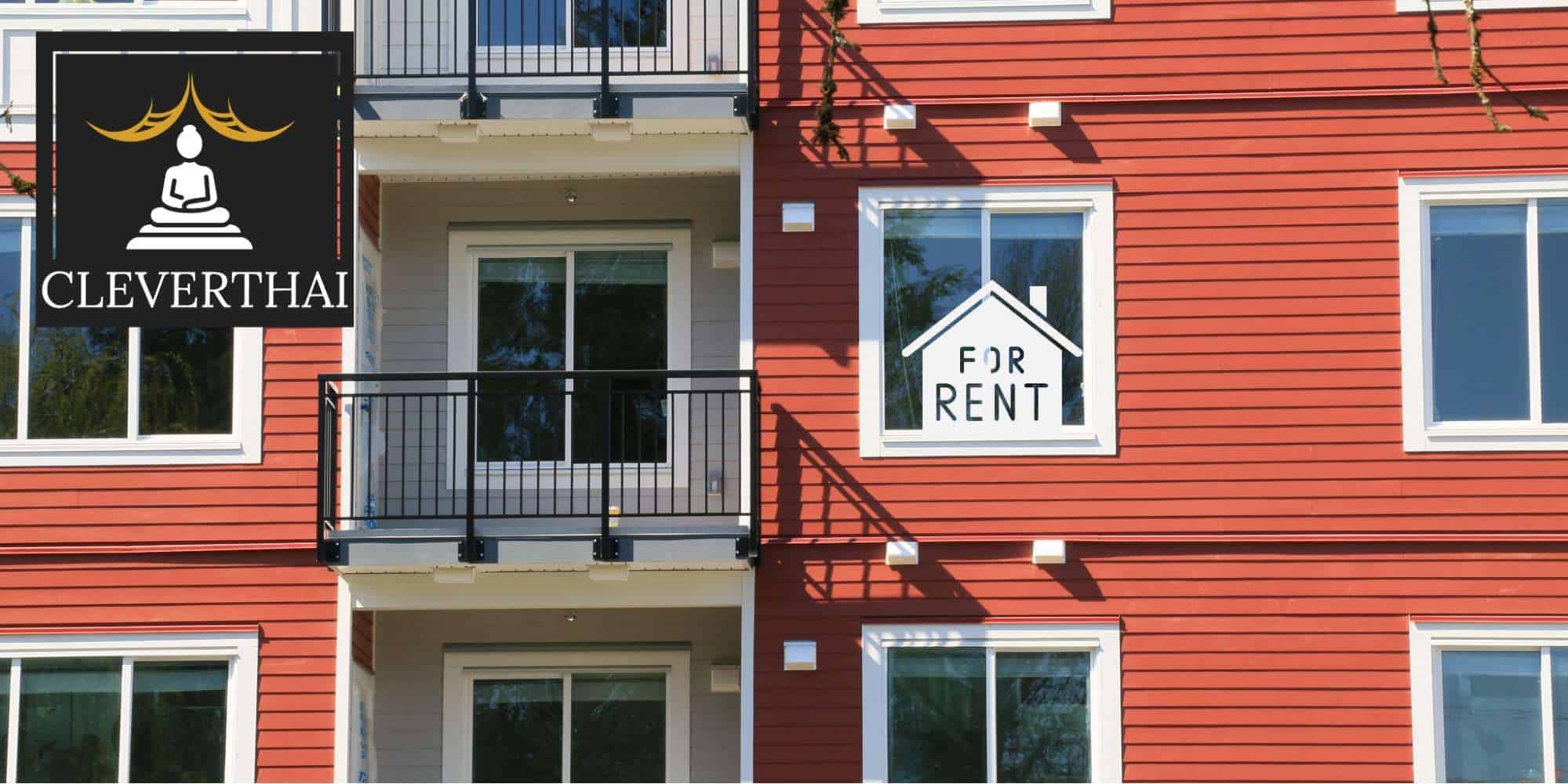 The 6 Best Websites for Room Rentals in Bangkok
How We Picked the Best Websites for Room Rentals in Bangkok
Database
We picked websites with a decent range of options for each area in Bangkok. Furthermore, we checked if the listings available have a wide price range that can suit all budget types.
Security Protocols
We examined the screening process for listings and user registration and checked their verification methods to determine the integrity of the website.
Website
Since the goal is to easily find room rentals, we evaluated the navigation and features of each rental website. We based the user-friendliness of the websites on available search filters, categories, and whether they have a mobile app.
Additional Fees
Finally, we checked if there are additional fees needed to be paid to the website by the tenant or landlord.
1. Booking.com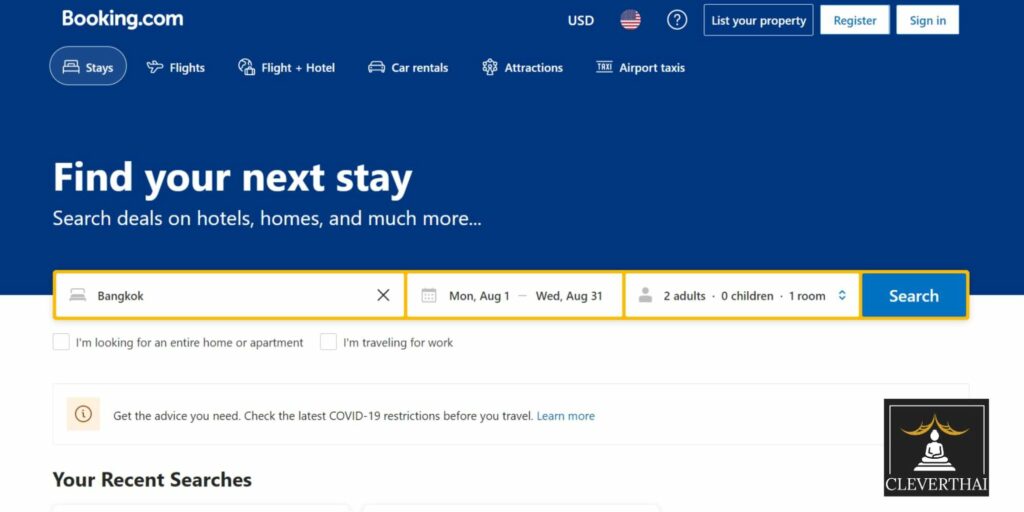 Services: Room, Studio, Apartment, Student Residence, Corporate Housing, Flights, Hotels, Car Rentals, Airport Taxis
Website: https://www.booking.com/
Contact Details: +66 2 058 5876
| | |
| --- | --- |
| Database | 5/5 |
| Security Protocols | 5/5 |
| Website | 5/5 |
| Fees | 4/5 |
Has a mobile app
Has the option to collect payment after check-in date
Wide variables in the search filter
Thousands of properties in Bangkok
Safe and reliable booking platform
Can improve their verification process to check if the listing photos match the actual room
Refund process takes a while
No office in Bangkok
Booking.com was established in 1996 as an online reservation site for hotels. After going through various transitions, the website started diversifying its offers in 2011 to cater to the evolving needs of its audience.
Although Booking.com is still dominated by commercially-owned hotels, we were surprised to find a decent database of both long-term and short-term room rentals from private landlords and hosts.
What we like most about Booking.com is its user interface, which is easy to navigate. Furthermore, the listings provided have detailed information and a good number of photographs.
On the downside, we have encountered reviews that some guests experienced booking a room and finding it of lower quality than what's listed on Booking.com. Several common problems include cockroaches, bedbugs, and hygiene issues.
Hopefully, Booking.com can improve its process of verifying the actual rooms for rent. On the other hand, it has a reliable score system where guests from each listing can rate and comment on their stay.
We recommend that guests who use Booking.com as a platform for room rentals in Bangkok carefully check the ratings and comments before proceeding with the booking.
Moreover, we appreciate that the ratings are detailed enough to cover scores for the location, staff, cleanliness, comfort, facilities, value for money, and free wifi for each listing.
We also like that hosts and property can list their properties for free on the website. However, we think that the 15% commission fee of Booking.com is quite hefty.
2. Renthub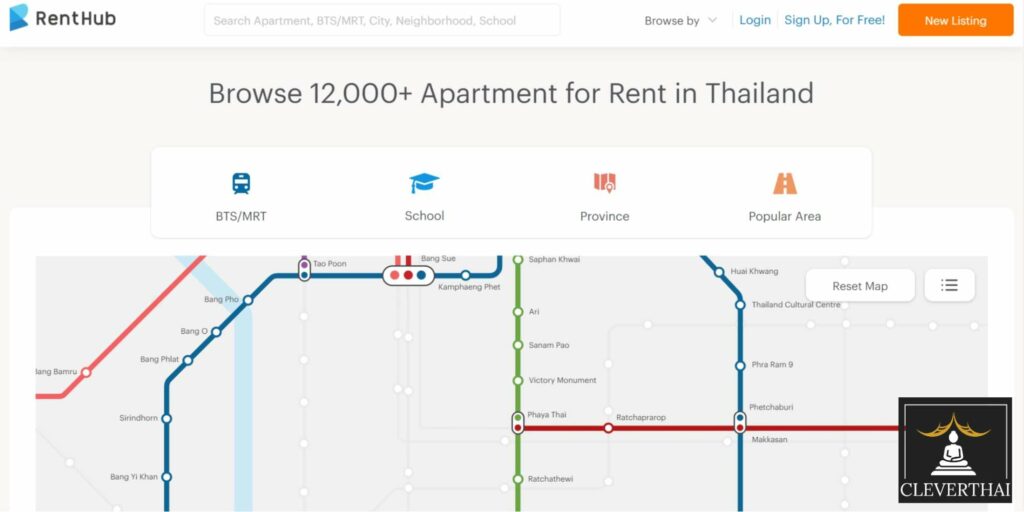 Services: Apartments, Dormitories, Short-Term Rental, Long-Term Rental
Website: https://www.renthub.in.th/en
Contact Details: +66 2 105 4287 | LINE: @renthub | support@renthub.in.th
| | |
| --- | --- |
| Database | 5/5 |
| Security Protocols | 4/5 |
| Website | 3/5 |
| Fees | 5/5 |
Good search parameters for location
Has visual tours for listings
Free listings
Has a verification process for each listing
Buggy website
Can improve search filters
Listing verifications are not required
Renthub is a Thai-operated rental website for both short-term and long-term rentals. While it only catered to apartment rentals before, it has made recent updates to include dormitories and rooms for searchers.
What we like most about Renthub is the location parameters on its website. We were impressed to see detailed categories of location searches, which enables users to narrow down options per city, province, neighborhood, school, and BTS station.
On the other hand, the other search filters are lacking. There are no options to narrow the search for property types, number of rooms, wifi availability, and facilities.
Moreover, we hope that Renthub can implement a rating system for its short-term rentals to enable other users to see the pros and cons of each property and its owner.
Another thing that we like about Renthub is the virtual tours available for each listing. Aside from the photo gallery, users can explore the room by zooming in or panning around in the interactive photo.
We also like that there is an indicated date on each listing as to when it was last updated. We found this feature reliable since it sets the user's expectations when searching for a room for rent.
While Renthub encourages property owners to provide documents to verify the listings, it is not a requirement. Anyone can list a property on the website by submitting details and pictures.
Because of this, we recommend that users exercise caution when dealing with unverified listings. Verified properties are clearly indicated, so it's easy for searchers to see.
Currently, Renthub has an app available for its property managers, and will soon release another one for room and dormitory searchers.
3. Airbnb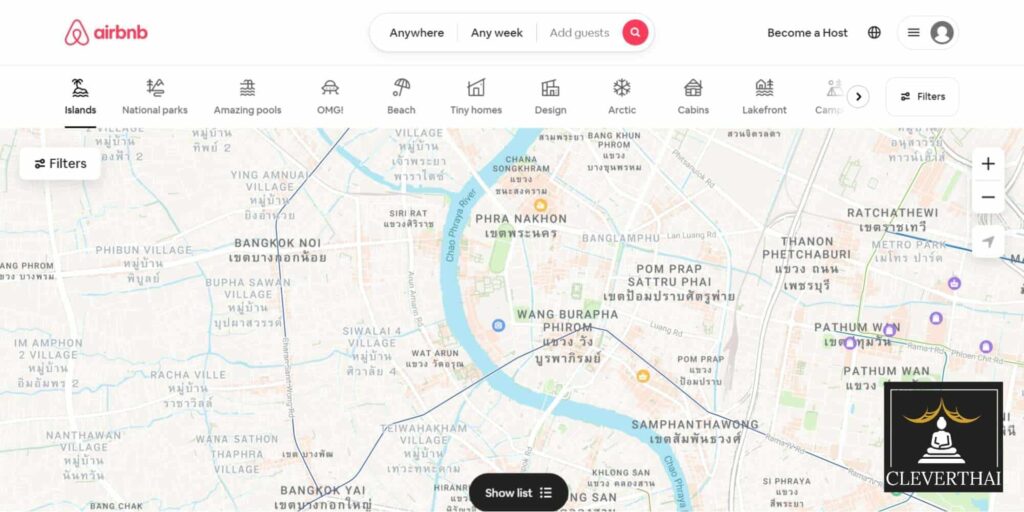 Services: House, Apartment, Room, Shared Room, Hotel, Guesthouse
Website: https://www.airbnb.com/
| | |
| --- | --- |
| Database | 4/5 |
| Security Protocols | 5/5 |
| Website | 5/5 |
| Fees | 4/5 |
Offers options for daily, weekly, and monthly stays
Varied options for room and property types
Navigable website with a user-friendly interface
Mostly mid-range to high-end rentals
Short-term Airbnb rentals are illegal in Thailand
Next on our list is Airbnb, one of the most popular online marketplaces that enable users to rent properties all over the globe. Since its establishment in 2007, it has come a long way in providing a reliable platform for landlords and tenants.
Notably, Airbnb is also a trusted online platform for those searching for a place to stay in Bangkok. Moreover, it has over a thousand options available in various areas of the city.
However, most of the prices of its room rental listings in Bangkok fall in the mid-range to high-end levels. Most rooms for long-term rent in the city fall above 13,00 Baht and reach almost 30,000 Baht.
What we like most about Airbnb is its user-friendly website. It has plenty of filters that can be tweaked, enabling users to search for specific property types, number of rooms, amenities, accessibility features, and host languages.
Furthermore, users can search for Instant Book and Self Check-in options. There is also the choice to search for rooms from Superhosts, which are recognized hosts, and Airbnb Plus, which are properties with verified quality and design.
On the downside, it was confirmed in a court ruling in 2018 that it's illegal for owners to rent out their properties for less than 30 days. An exception to the rule is if the owner has a Hotel License.
We have to note, however, that the law is applicable to the property owners and will not affect the renter in any way unless turned away by the landlord. With this in mind, we encourage booking long-term rentals on Airbnb even though Thailand has poor enforcement of these rules.
4. Hongpak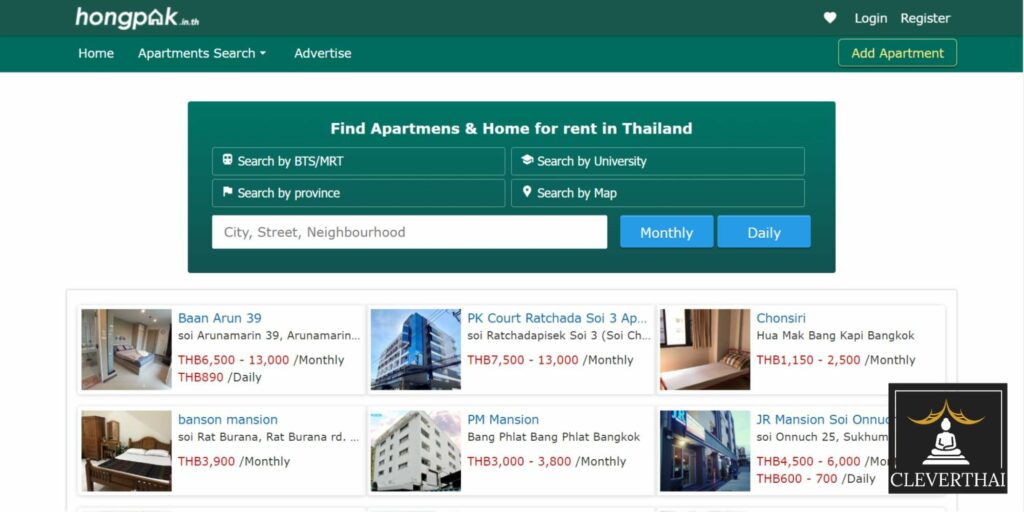 Services: Apartment, Dormitory, Monthly Room Rentals
Website: https://www.hongpak.in.th/
Contact Details: 086-9129728 | LINE: @hongpakth | hongpakth@gmail.com |
| | |
| --- | --- |
| Database | 5/5 |
| Security Protocols | 1/5 |
| Website | 3/5 |
| Fees | 4.55/5 |
Good search filters for provinces, train stations, and universities
Has plenty of affordable listings
Needs a Thai mobile number to register an account
Unreliable English website translation
Hongpak is one of the most popular online room rental platforms for Thai locals. The thing we like most about this website is its extremely affordable listings.
Users can find rooms for rent for as low as 1,500 Baht per month. However, you couldn't expect much from these cheap rentals since they mainly offer a single bed and almost no extra amenities.
On the other hand, listings priced on the higher end of the affordable range are situated in central locations and feature good amenities and a well-designed room.
Moreover, we like its straightforward website interface where users can search per train station, province, or university. It's just a let-down that even though Hongpak offers exclusive rooms for men or women, there are no filters for those options.
Another problem we found with Hongpak is the security and trustworthiness of its listings. Even though it requires registration with a valid Thailand mobile number, there are no other verification processes when adding a listing.
Moreover, the user profiles for listings do not have any information and are not given ratings or comments.
On a final note, Hongpak is a reliable platform for room rental searchers when proper cautionary steps are taken. Since the website cannot be held liable for fraudulent listings, it's up to the renter to exercise caution, such as asking for IDs and verifying the place in person.
5. Thai Apartment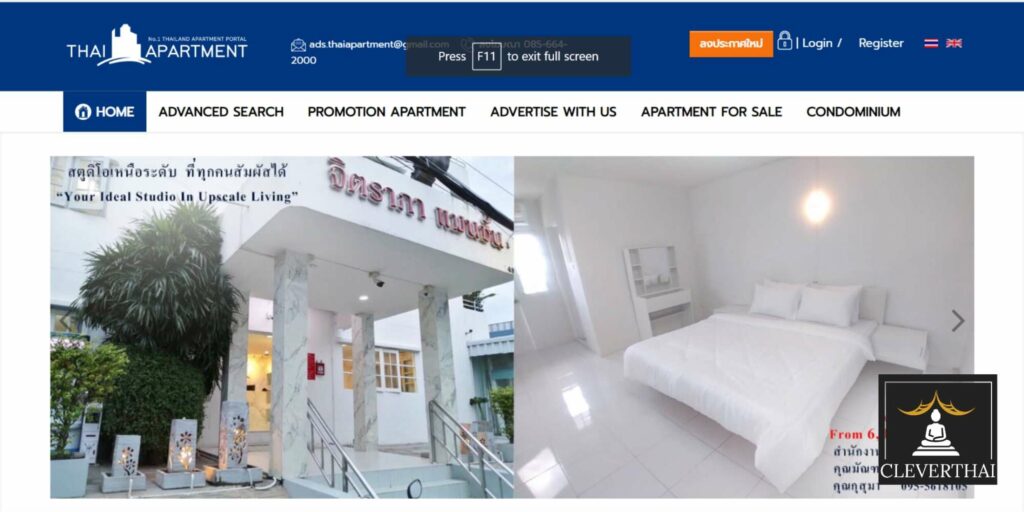 Services: Apartment, Condo, Short Term Rental, Serviced Apartment,
Website: https://www.hongpak.in.th/
Contact Details: 085-664-2000 | ads.thaiapartment@gmail.com
| | |
| --- | --- |
| Database | 5/5 |
| Security Protocols | 5/5 |
| Website | 4/5 |
| Fees | 4/5 |
Large database for properties in various areas in Bangkok
Can filter search options per train station and price range
Mostly offers long-term rentals, with a minimum of 1-year contracts
Thai Apartment prides itself as the number one apartment portal in Thailand. True enough, many people we surveyed have had good results when choosing this platform for room rentals in Bangkok.
We should mention that Thai Apartment is a brokerage service that connects property owners to potential tenants. Although some people are turned off by having a broker since it translates to expensive fees, we find that availing of their services is a good option for better security.
Since Thai Apartment vetoes all landlords and tenants, all parties are provided more secure service that is legally bound through contracts.
What we found different with Thai Apartment compared to other brokers is its website is similar to online booking platforms. It has good search filters that allow users to search for properties per train line, and this can be narrowed down to each MRT, BTS, ARL, and BRT station.
Moreover, users can filter their search according to their budget. We like that Thai Apartment offers a wide range of budgets that range from below 5,000 Baht to over 50,000 Baht.
On the downside, although Thai Apartment has short-term rentals available, we found the options limited. Most of the Bangkok rooms for rent listed on the website are for long-term leases with a minimum of one-year contracts.
6. BKKCONDOS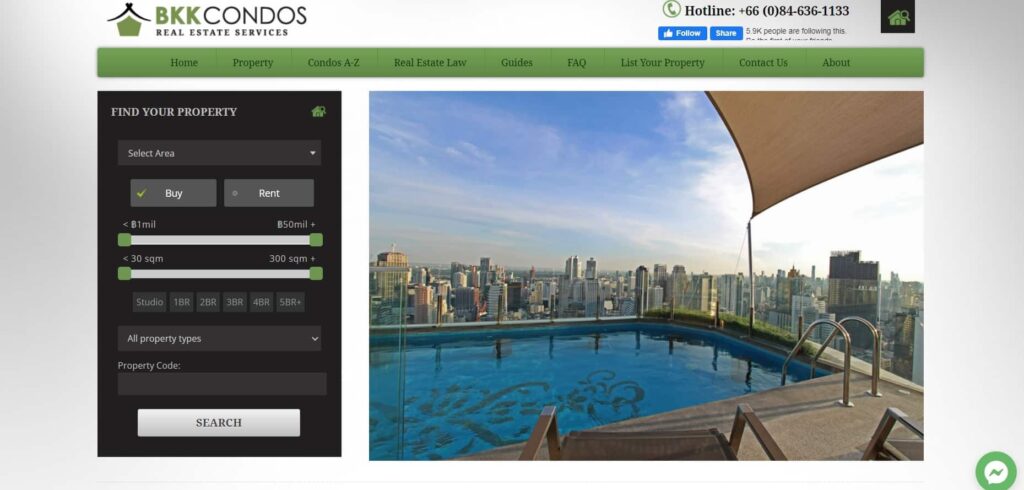 Services: Property, Real Estate Law
Website: https://www.bkkcondos.com/
Contact Details:
Hotline: +66 (0) 84-636-1133
Email: admin@bkkcondos.com
WhatsApp: +66846579247
Line: djay_wood
| | |
| --- | --- |
| Database | 5/5 |
| Security Protocols | 5/5 |
| Website | 5/5 |
| Fees | 5/5 |
Wide variety of property rates
Responsive and proactive customer service
Smooth and convenient transactions
Slight limitations when it comes to property types
BKKCONDOS is a company that offers clients comprehensive real estate services for both local and international property buyers and sellers when it comes to acquiring or selling properties in Bangkok.
We like that the properties that they accommodate and offer are diverse and equally valuable properties priced from THB 3,000,000 to THB 400,000,000 to ensure that clients get the most out of their budget.
Furthermore, their team of experts in the field is highly accommodating and knowledgeable as they make it to a point to guide the client in selecting and transacting their desired property all steps of the way.
Note though that they might have slight limitations when it comes to the type of property sold so clients may need to inquire with them directly should they find limitations with their selection available online.
Nonetheless, with their exemplary and responsive customer service, proactive and personalized approach to real estate services, and diverse range of properties sold, we highly recommend them to clients looking for a specific commercial or residential place at their desired place.
FAQs about Room Rentals in Bangkok