Categories >
Guides and Tips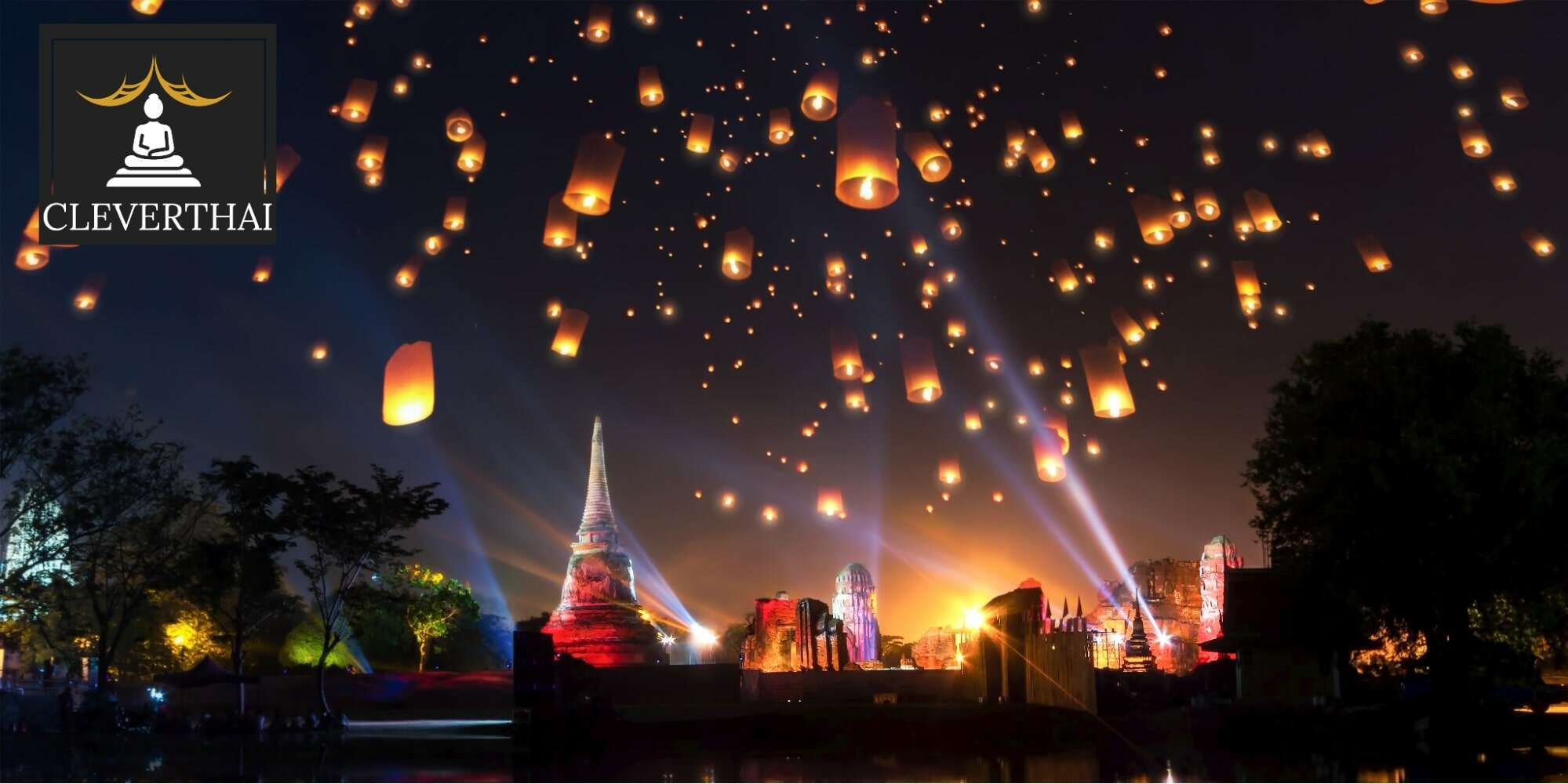 The 10 Most Famous Festivals in Bangkok
Thailand stands out as a country that celebrates many public holidays. With so many enchanting and vibrant festivals, it can be difficult to figure out the perfect time to visit the Land of Smiles.
To help you choose the best time to visit, we listed the best festivals in Bangkok and explored each one to serve as your guide. From Loy Krathong to Songkran, we chose the most captivating, intriguing, and picturesque events celebrating the country's rich diversity and history.
Whether you want to expand your knowledge about Buddhist rituals and Thai culture or simply have a memorable time immersing in the festivals, we picked the most famous Bangkok holidays you should not miss!
1. Songkran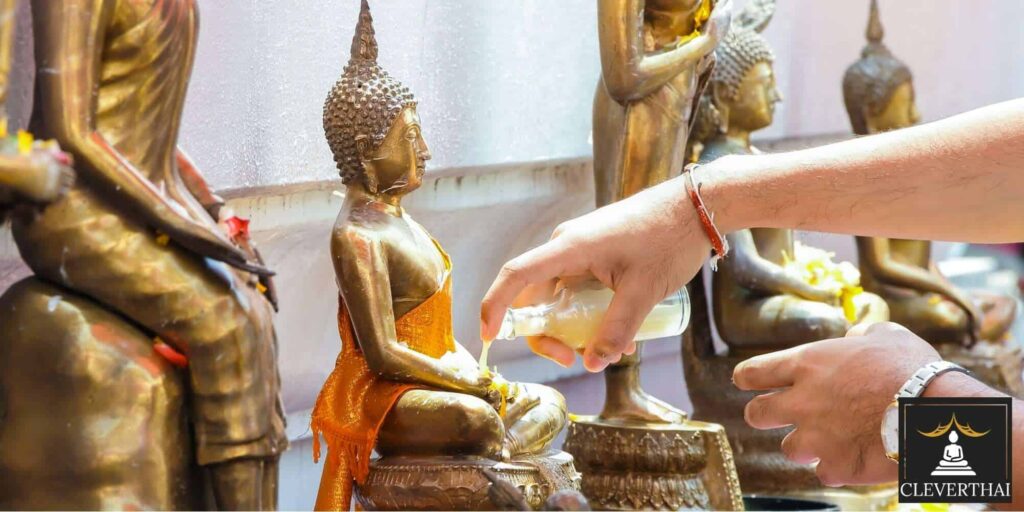 WHERE
Everywhere in Thailand
WHEN
April 13 to 15
DURATION
3 to 5 Days (depending on the government)
BEST FOR
Families, Solo Travelers, Groups
HIGHLIGHTS
Water Splashing, Family Reunions, Temple Visits, Gift-Giving, Cultural Parades, Elephant Processions
ACCESSIBILITY
★★★★★ (5/5)
BEST PLACES TO OBSERVE
• Bangkok
• Chiang Mai
INSIDER'S TIPS
• Expect to get wet
• Place your valuables in a waterproof pouch
• Dress respectfully as this is still a religious celebration
• Prepare gifts in advance
Many would argue that Songkran is the best and largest festival in Thailand. Moreover, it is considered the Thai New Year and widely celebrated in the form of a massive water fight involving the entire country.
Interestingly, this tradition dates back to the 13th century. It came from the Buddhist ritual of sprinkling water on the images of Buddha as a symbol of washing away bad energy from the previous year.
Another tradition practiced by both locals and foreigners during Songkran is gift giving. Gifts are given to older family members, but it's now more common to exchange gifts even within circles of friends and coworkers.
We recommend skipping the notorious Bangkok traffic during these busy days and opting for gift deliveries instead. Furthermore, it is best to stay off the roads since vehicular accidents are common during Songkran.
2. Loy Krathong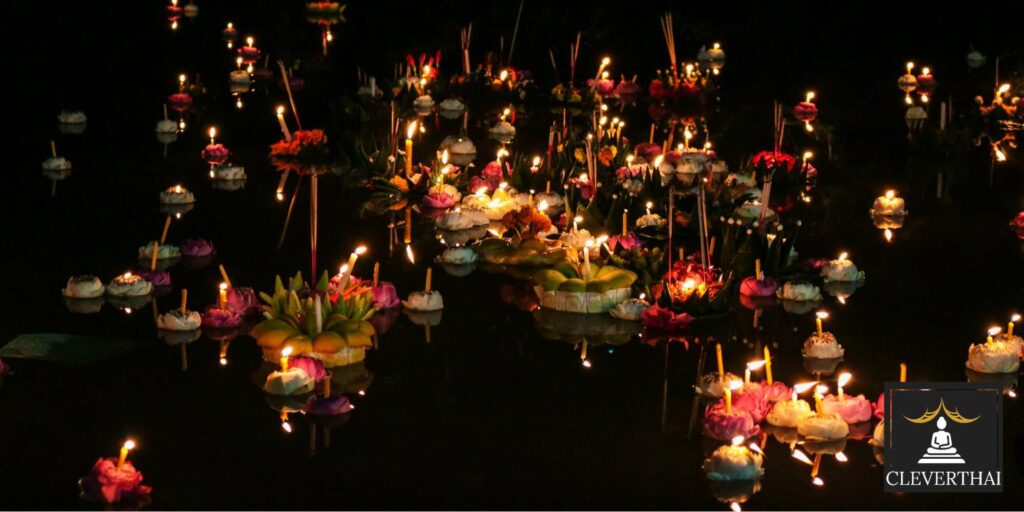 WHERE
Everywhere in Thailand
WHEN
Full moon of the 12th Thai month
[In 2022] November 8, 9 & 10
DURATION
5 Days in Sukhothai
3 Days in Other Areas
BEST FOR
Families, Solo Travelers, Groups
HIGHLIGHTS
Parades, Traditional Performances, Making Krathongs to float in rivers or lakes, Buddhist Ceremonies
ACCESSIBILITY
★★★★★ (5/5)
BEST PLACES TO OBSERVE
• Bangkok
• Chiang Mai
• Sukothai
• Phuket
INSIDER'S TIPS
• Book a riverside hotel for amazing views of the festival at night
Loy Krathong, better known as the Festival of Lights, is one of the most important holidays in Thailand, along with Songkran. On the evening of this event, locals pay respect to the goddess of water by releasing small candlelit vessels called Krathongs, to float on lakes, rivers, and canals.
The Krathong is believed to carry away misfortunes, symbolizing a fresh start. If your Krathong manages to stay alight until it floats away from sight, this is a good sign since it signifies good luck in the coming year.
In Bangkok, festivities are centered at the Chao Phraya River, where events such as boat processions, cultural events, firework displays, and Krathong-making workshops are held in various spots along the river.
If you are traveling with your loved ones, or even by yourself, book a photographer to preserve the vibrant memories when celebrating this picturesque festival.
Since this takes place in November, make room reservations ahead of time to beat the peak tourist season. We also recommend hiring a taxi service for travel convenience during Loy Krathong.
3. Yi Peng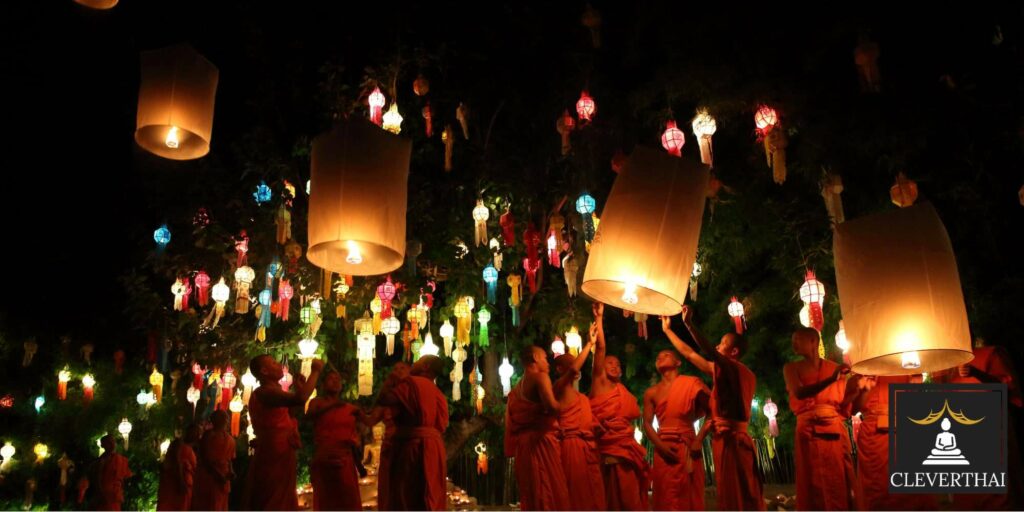 WHERE
Northern Thailand
WHEN
Full moon of the 12th Thai month
[In 2022] November 8 & 9
DURATION
2 Days
BEST FOR
Couples, Families
HIGHLIGHTS
Lantern-Making Activities, Krathong Lantern Release, River Cruises, Buddhist Ceremonies
ACCESSIBILITY
★★★★☆ (4/5)
BEST PLACE TO OBSERVE
• Chiang Mai
INSIDER'S TIPS
• Reserve hotels and cruises in advance before the prices rise
• Keep your chest, shoulders, and knees covered when visiting temples
• Make a wish before launching the lantern!
Yi Peng is Thailand's Lantern Festival and shares similarities to Loy Krathong, including being celebrated on the same day. However, only the Northern parts of Thailand mainly celebrate this festival, particularly in Chiang Mai.
Another difference is that the paper lanterns used in Yi Peng are called Khom Loi. In contrast to the Krathongs that float in the rivers and lakes, people release the Khom Loi into the sky while making a wish.
However, the celebrations do not stop at the lantern release. You can also experience Buddhist ceremonies, fireworks, parades, music performances, and lantern displays.
Finally, Yi Peng is a popular holiday for couples who wish to spend quality time and make wishes for the future. Romantic dinners, river cruises, hotel stays, and tours are several ways to experience this Thai Valentine's Day.
4. King Rama IX Birthday Anniversary and Father's Day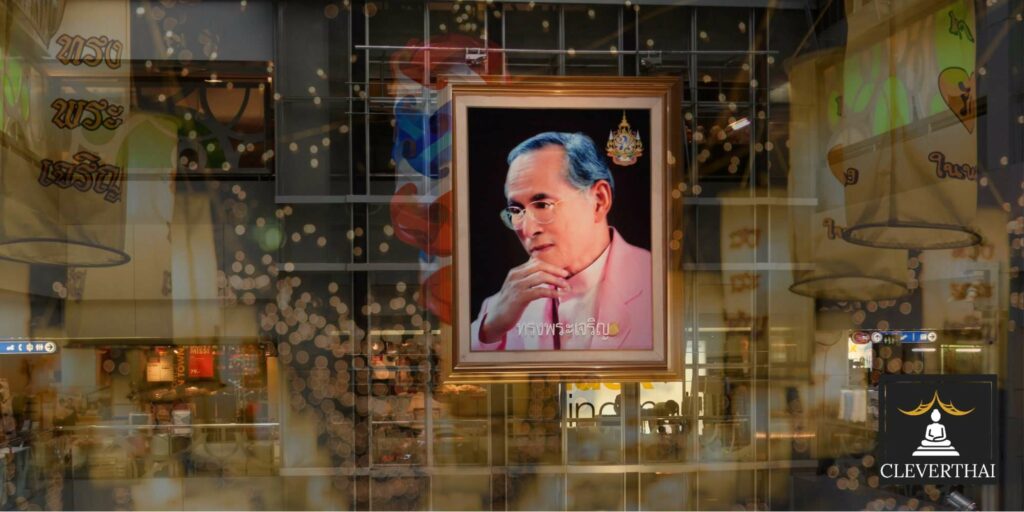 WHERE
Everywhere in Thailand
WHEN
December 5
DURATION
1 Day
BEST FOR
Families, Groups
HIGHLIGHTS
Fireworks, Decorated Houses and Buildings, Religious Ceremonies, Bike Races
ACCESSIBILITY
★★★★★ (5/5)
BEST PLACE TO OBSERVE
• Sanam Luang, Bangkok
INSIDER'S TIPS
• Wear yellow or black to honor the memory of King Rama IX
• Send a canna flower to your father
• Make restaurant reservations in advance
December 5 is a public holiday to pay respects and honor the late King Bhumibol Adulyadej on his birthday.
Furthermore, this day also doubles as Thai Father's Day to honor fathers for their devotion to their children. Locals traditionally celebrated this holiday by giving their fathers a canna flower, conveniently available in flower delivery shops around Bangkok.
In 2017, this event was officially renamed King Bhumibol's Birthday Anniversary to honor the beloved monarch. Many locals wear yellow to celebrate and recognize royalty or black to commemorate the late king.
To celebrate Father's Day, you can treat your fathers and grandfathers to one of the best fine dining restaurants in Bangkok to show them your appreciation and affection.
For an added oomph, you can opt to arrive in style and surprise them by renting a luxury car for this special day.
5. Chinese New Year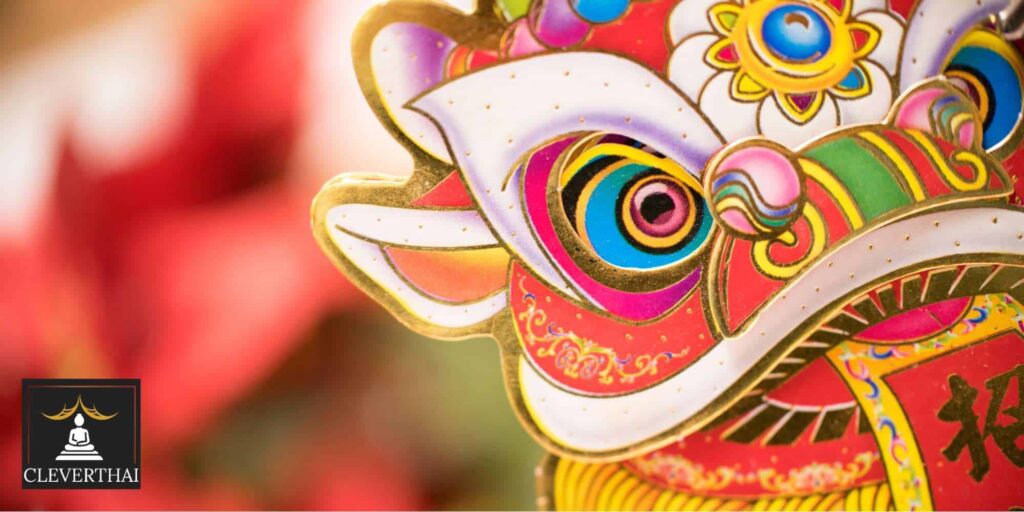 WHERE
Everywhere in Thailand
WHEN
January or February
Usually the 2nd new moon day after the winter solstice
DURATION
1 Day
BEST FOR
Families
HIGHLIGHTS
Dragon Dancers, Cultural Performances, Banquets
ACCESSIBILITY
★★★★★ (5/5)
BEST PLACES TO OBSERVE
• Wat Mangkon Kamalawat, Bangkok
• Yaowarat Road, Bangkok
• Thalang Road, Phuket
• Warorot Market, Chiang Mai
INSIDER'S TIPS
• Get into the spirit by dressing up in red clothes
• Do not wear black or dark clothing
A large percentage of the local population includes Thais of Chinese descent, particularly in Koh Samui, Nakhon Sawan, Chiang Mai, Phuket, and Bangkok. While Chinese New Year is not a declared public holiday in Thailand, some people take a day off to celebrate with family.
Chinese New Year is a cherished event where most happenings occur in Bangkok's Chinatown, Yaowarat. Explore the narrow, bustling alleys leading to its heart at the Wat Mangkon Kamalawat, where the main festivities take place.
It is also exhilarating to be in the crowd with worshippers, dragon dancers, and exploding firecrackers. Get into the spirit by dressing in red clothing and avoiding black or dark colors.
The surrounding shops decorated with red paper lanterns, traditional posters, and Chinese calligraphy banners make for a great photo backdrop, so do not forget to bring your cameras!
To further immerse in the culture, enjoy the traditional banquets especially prepared for this occasion in an authentic Chinese restaurant.
6. Moon-Praying Festival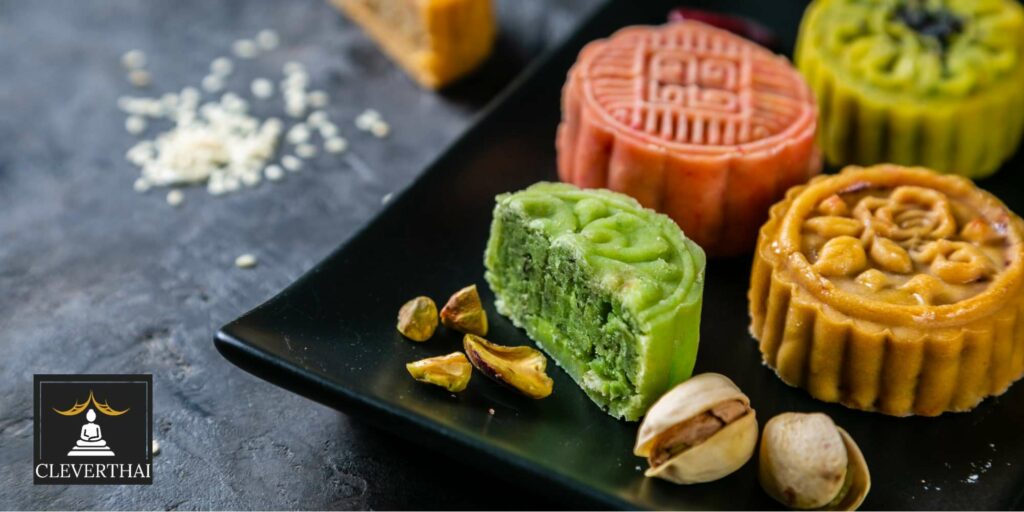 WHERE
Everywhere in Thailand
WHEN
August or September
5th day of the 8th month of the Chinese calendar
DURATION
1 Day
BEST FOR
Families
HIGHLIGHTS
Dragon and Lion Dances, Moon Cakes, Cultural Performances, Banquets
ACCESSIBILITY
★★★★★ (5/5)
BEST PLACE TO OBSERVE
• Yaowarat Road, Bangkok
INSIDER'S TIPS
• Order enough moon cakes for gifting in advance
• Make hotel and restaurant reservations months before the event
Another popular Chinese holiday is the Moon-Praying Festival, or Moon Cake Festival, held each year in August. Known worldwide as the Chinese Mid-Autumn Festival, this event is celebrated through family gatherings centered on food.
Everywhere in Bangkok, you will find stalls selling incense sticks, candles, and moon cakes. Interestingly, the Thais conduct a ceremony similar to the folk worship in China by making sugar cane archways, lighting incense and candles, worshipping the moon, and praying for each other.
The colorful Mid-Autumn table is displayed with grapefruit, peaches, and moon cakes to serve as sacrifices to Guanyin Bodhisattva and the Eight Immortals.
A fun way to prepare for the festival is to enroll in cooking classes and learn how to make special dishesfrom scratch to impress your family!
7. New Year's Eve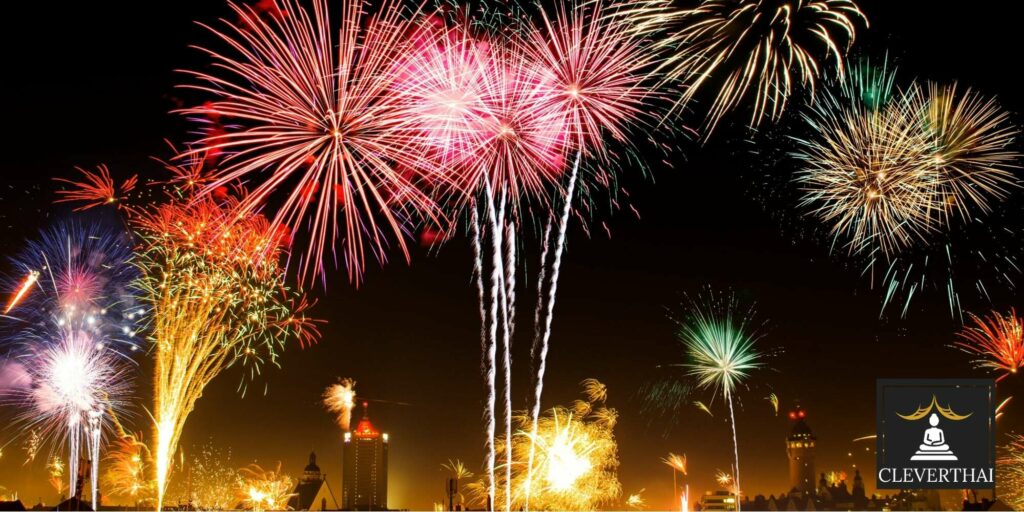 WHERE
Everywhere in Thailand
WHEN
December 31
DURATION
1 Day
BEST FOR
Nightlife, Groups
HIGHLIGHTS
Parties, New Year Countdown
ACCESSIBILITY
★★★☆☆ (3/5)
BEST PLACES TO OBSERVE
• Bangkok
• Phuket
• Khao Pangan
• Chiang Mai
INSIDER'S TIPS
• Know where to go beforehand
• Make detailed plans when traveling with a group
• Prepare for crowds
Thailand still celebrates New Year's Eve with the rest of the world, even though Thai New Year, or Songkran, is in April. For this event, you can find an exhilarating atmosphere in Bangkok's rooftop bars as an excellent vantage point for firework displays.
Furthermore, Thailand hosts numerous countdown parties that range from thrilling to downright raucous. Several New Year's Eve festivals include the famous Full Moon Party at Khao Pangan Island, Street Party at Khao San Road, and the Lanterns and Lights at Chiang Mai.
Alternatively, you can choose to party at one of the hottest nightclubs or the finest pubs in Bangkok. These places usually hold exciting events to help you welcome the incoming year with a bang!
8. Buddha's Birthday (Visakha Bucha)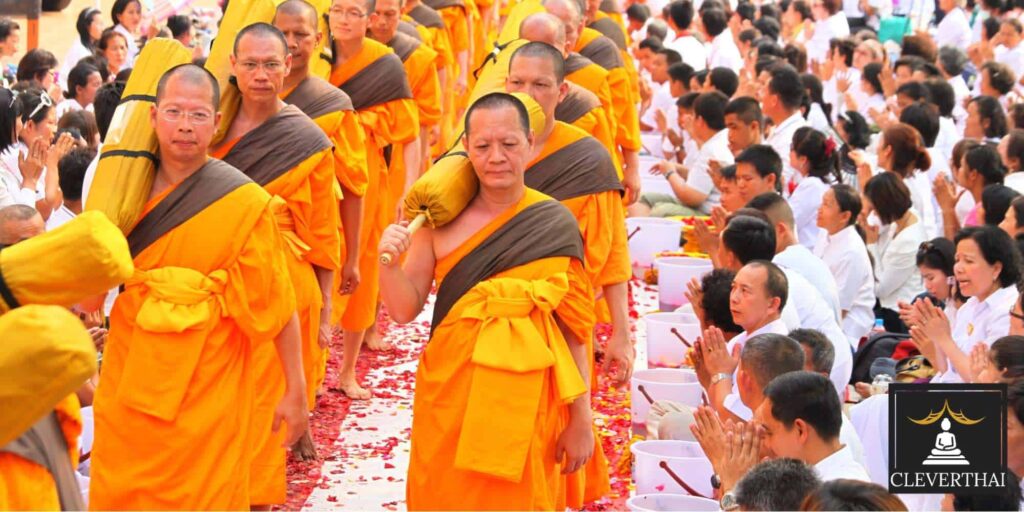 WHERE
Everywhere in Thailand
WHEN
May or June
Full moon of the sixth lunar month
DURATION
1 to 3 Days
BEST FOR
Solo Travelers
HIGHLIGHTS
Processions, Offerings, Rituals
ACCESSIBILITY
★★★★☆ (4/5)
BEST PLACES TO OBSERVE
• In major temples across Thailand
• Sanum Luang
• Golden Mount
• Phutthamonton
INSIDER'S TIPS
• Most government offices and banks are closed on this day, so prepare accordingly.
• Show respect by not drinking alcoholic beverages
Visakha Bucha Day, or Buddha's Birthday, is another important public holiday in Thailand. This occasion commemorates the birth, enlightenment, and passing of the Buddha.
The date of Visakha Bucha Day varies according to the lunar calendar, but it usually falls in May or June. Additionally, it is celebrated for three days, unless it falls from Tuesday to Thursday.
Devout Thai Buddhists start celebrating in the early morning by visiting major temples and offering food to the monks. They also take part in several rituals and make donations during the visit.
In the evening, processions take place where participants carry three glowing incense sticks, a lighted candle, and flowers while walking around the chapel three times.
It is important to note that banks and government offices are closed during Visakha Bucha Day, so prepare accordingly. Purchasing and drinking alcoholic beverages are also discouraged, so all establishments do not sell them to show respect.
9. Lopburi Monkey Festival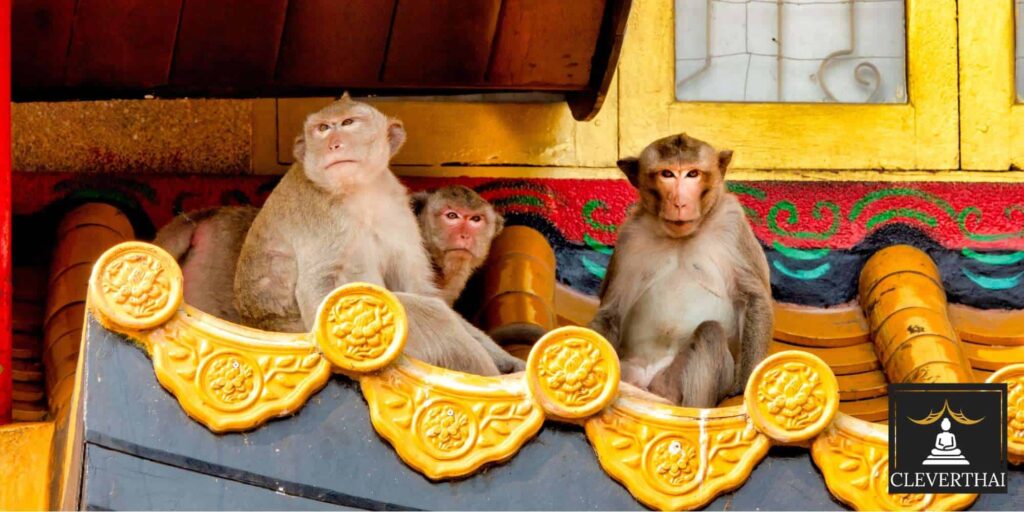 WHERE
Lopburi, Thailand
WHEN
The last Sunday of November
[In 2022] November 27
DURATION
1 Day
BEST FOR
Families, Groups, Solo Travelers
HIGHLIGHTS
Performances with Monkeys, Monkey Banquet, Feeding Monkeys
ACCESSIBILITY
★★★☆☆ (3/5)
BEST PLACE TO OBSERVE
• Phra Prang Sam Yot Temple
INSIDER'S TIPS
• Mind your belongings since the monkeys are known to steal personal items.
• This is known as one of Thailand's wackiest celebrations, so be prepared to have fun!
Located 150 kilometers northeast of Bangkok lies a city where monkeys are revered. The locals at Lopburi respect the long-tailed macaques so much that an extravagant feast is held every year in an old Khmer temple to honor them.
A grand banquet of sticky rice, fruit, and vegetables is prepared on long tables, and over 3,000 macaques attend this event. The performances of the locals are also a must-see since some of the acts include dancing monkeys.
Many locals believe that offering food to the monkeys brings good luck, so prepare some food at hand to feed them. Thousands of tourists also visit Lopburi for this unique festival, so be prepared for crowds.
You are required to take precautions since these wacky creatures are known to climb on people to steal personal items. Once your belongings are taken, there is little chance of recovering your items from the monkeys.
10. Ghost Festival (Phi Ta Kon)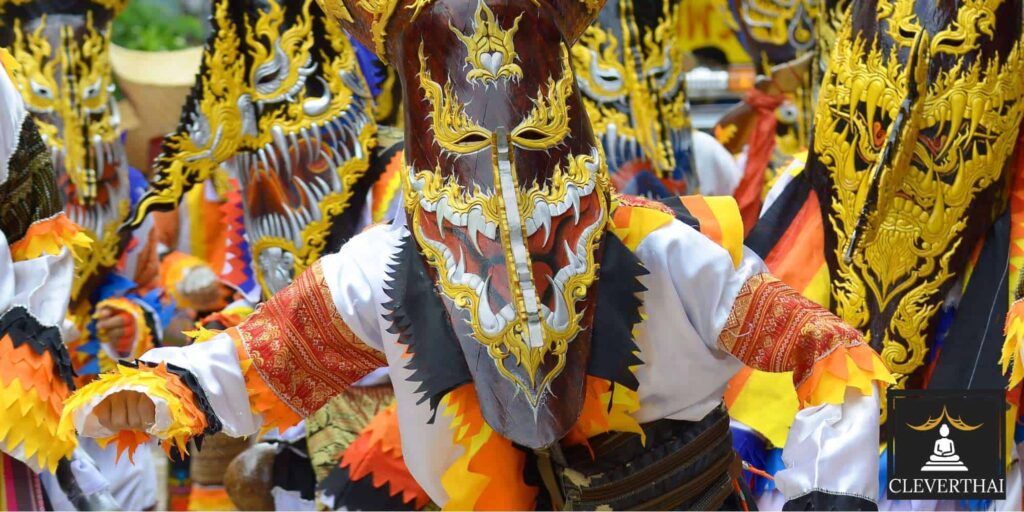 WHERE
Dan Sai, Loei Province
WHEN
March, April, June, or July
Depending on the decision of the village's mediums
DURATION
3 Days
BEST FOR
Groups
HIGHLIGHTS
Vibrant Parades, Rocket Festival, Ghost Masks and Giant Phalluses
ACCESSIBILITY
★★★☆☆ (3/5)
BEST PLACE TO OBSERVE
• Dan Sai Village
INSIDER'S TIPS
• Prepare for a fun celebration by dressing up in ghost masks and partying in the streets
In the quiet farming village of Dan Sai in the Loei Province, the serene atmosphere is transformed every summer during Phi Ta Kon, or the Thai Ghost Festival. This colorful and enthralling festival is a re-enactment of a Buddhist story, celebrating animist reincarnation beliefs.
It is interesting to note that this tale talks about the final incarnation of Lord Buddha before he reached enlightenment as a prince. Phi Ta Kon is based on his joyous homecoming that woke the dead.
The highlight of this three-day celebration is the long-nosed, painted masks, patchwork costumes, bells, and phallus-shaped swords. The second day is marked by praying for rain through firing rockets filled with good luck tokens.
Finally, the event finishes on the third day by gathering the community to listen to Buddhist monks recite the thirteen sermons about Lord Buddha.
FAQs about Festivals in Bangkok
What is the most popular festival in Thailand?
Songkran is the most popular festival in Thailand. It is considered the Thai New Year and is held all over the country for several days.
While Songkran is celebrated for three days in Bangkok, other parts of Thailand observe the holiday for up to six days. Notably, many foreigners attend this famous festival to take part in the fun water fights on the streets.
What happens during Songkran?
All over Thailand, Songkran is celebrated outdoors and in the streets. There are many street parties featuring loud music and friendly water fights.
Everyone is generous with sharing water collected in buckets. People use squirt guns, water balloons, and various containers to playfully splash water on each other.
What famous festival in Thailand is known for its flying lanterns?
Yi Peng, also known as the Thai Lantern Festival, is a famous celebration that uses flying lanterns. It is held on the first full moon of the 12th lunar month of each year.
Like Loy Krathong, it is considered Thai Valentine's Day. Since Yi Peng is mainly celebrated in Chiang Mai, couples go there on dates and staycations while participating in the festival to make wishes for the future.
What is the most beautiful festival in Thailand?
Many would attest that the most beautiful festival in Thailand is Yi Peng. Other magical and picturesque festivals include Loy Krathong, Pattaya Firework Festival, and Candle Festival.
What are the major festivals celebrated in Thailand?
Thailand has many festivals and public holidays. However, the two major festivals that top the list are Songkran and Loy Krathong.