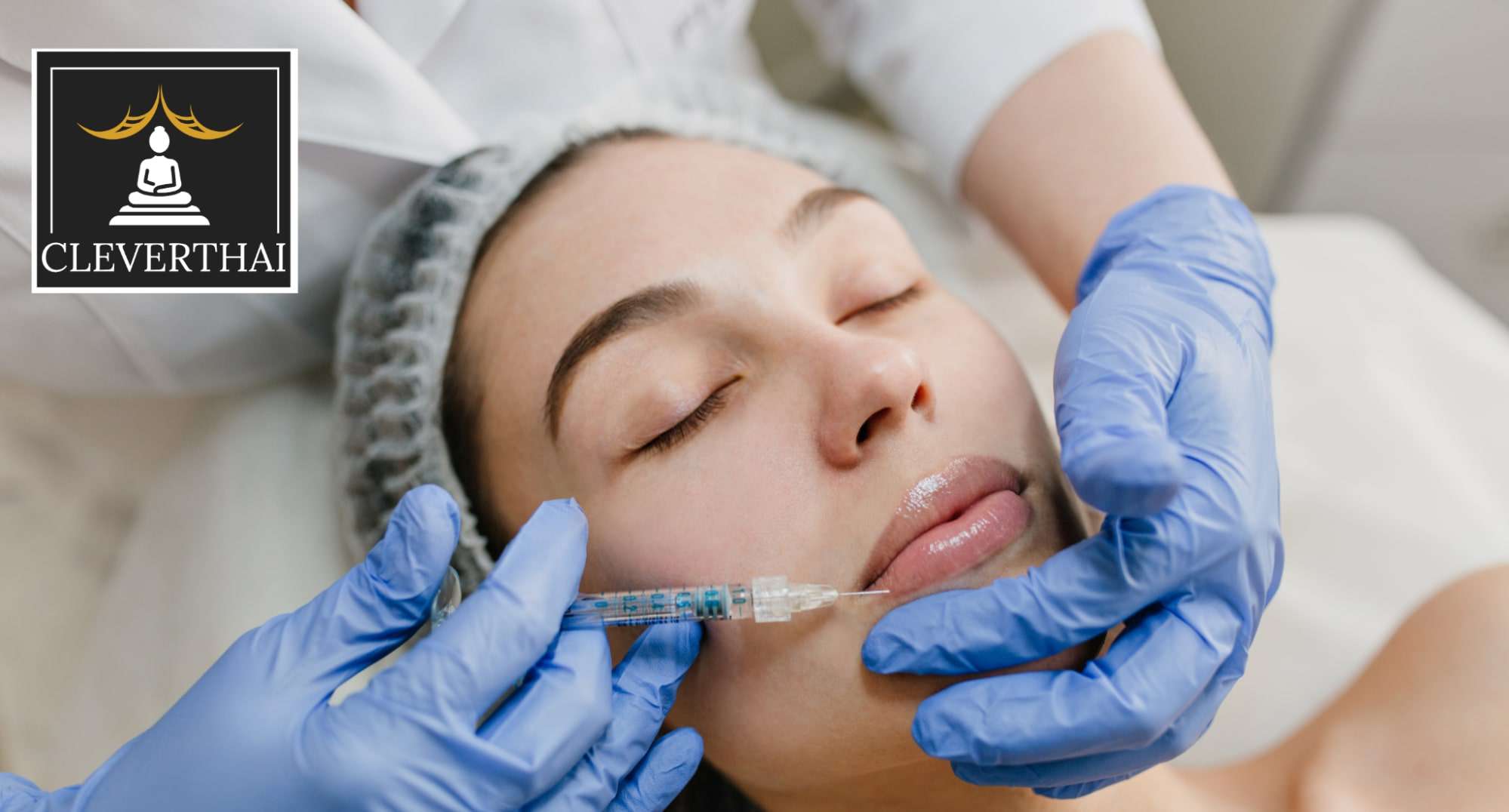 The 5 Best Clinics for Lip Injections in Bangkok
How We Chose the Best Clinics for Lip Injections in Bangkok
Expertise
We looked into the medical team in each clinic to see their credentials, educational backgrounds, and experiences in the industry.
Variety of Services
We also considered the other treatments offered in each clinic to assess the knowledge and skill of the staff regarding other cosmetic and medical procedures.
Customer Satisfaction
We conducted surveys to learn about the quality of service in each clinic. We also based this on relevant information from third-party sources, such as Google reviews.
Value for Money
By looking at each clinic's overall experiences and attributes, we determined if patients received the quality service they paid for and got their money's worth.
1. Milada Cosmetic Surgery Hospital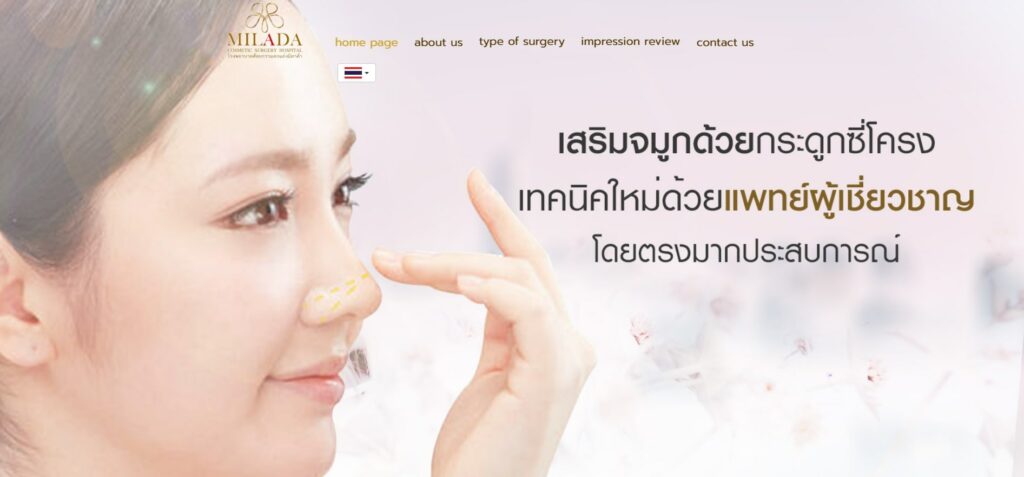 Services: Lip decoration, rhinoplasty, gender reassignment, chin augmentation, facial bone decoration, breast augmentation
Website: http://www.miladahospital.com/
Address: 1 Sathu Pradit 20 Road, Bang Khlo Subdistrict
Bang Kho Laem District, Bangkok 10120
Contact Details: Tel. : 0-2212-4041 Mobile: 063-343-9855
Fax. : 0-2212-4042
Operating Hours: 10:00 AM to 8:00 PM, Monday to Saturday
| | |
| --- | --- |
| Google Reviews | 5/5 |
| Total reviews | 3/5 |
| Score consistency | 5/5 |
| | |
| --- | --- |
| Expertise | 5/5 |
| Variety of Services | 4/5 |
| Customer Satisfaction | 5/5 |
| Value for Money | 4/5 |
Professional and experienced medical staff 
Clean and modern 
Variety of services offered
No readily available estimates for procedures online
Website is available only in Thai and Chinese language
For those who want a one-stop shop for their lip injection and other cosmetic needs, Milada Cosmetic Surgery Hospital might be the ideal facility.
What we like most about this clinic is its clean and modern facilities, which include three large and five small operating rooms and state-of-the-art equipment. Furthermore, it's impressive that its doctors have done over 90,000 surgeries in its 24 years of existence!
Although Milada can be easily spotted in its location on the main road, it's best accessed through a private car or taxi. Also, since it's not in Central Bangkok, there are train stations near the place.
It's also great that Milada offers various cosmetic surgery procedures, from simpler ones like rhinoplasty to more complicated surgeries like gender reassignments. From our research, we noted that it is also a popular clinic for lip injections in Bangkok.
Notably, Milada is managed and run by experienced medical staff. Moreover, we found that patients can rest easy since the specialists here are certified by various medical organizations, such as the Association of Plastic Surgeons of Thailand.
Based on our surveys, we noted many positive comments about the professionalism and skill level of the doctors in the clinic. The people we spoke with also expressed their satisfaction with their consultations, surgeries, after-care, and results.
On the downside, we found it quite challenging to find detailed information on its services and their costs. Its website also doesn't offer integration for the English language since it's only available in Thai and Chinese.
However, we like that its staff quickly responds to inquiries via LINE and can easily accommodate English-speaking patients.
Although Milada does not have readily available estimates for its procedures, we think it offers superb value for money.
Ultimately, its featured results, excellent customer service, experience, and skilled doctors make us confident in its ability to do reliable lip injections in Bangkok.
2. Nirunda Clinic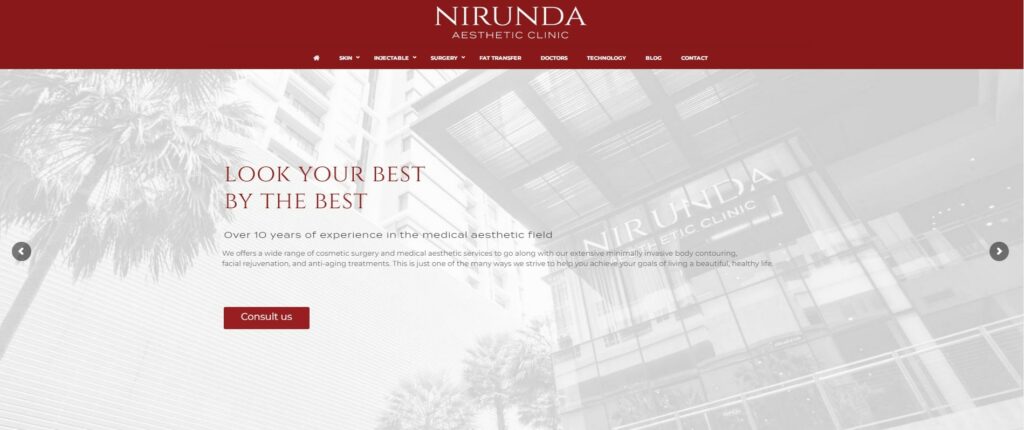 Services: Surgical services, such as face and neck lift, face feminization, chin augmentation, chin reduction, lip augmentation, lip reduction, rhinoplasty, eyelid surgery, ear reshaping
Website: https://nirundaclinic.com/
Address: 93/336 The Emporio Place, Sukhumvit Soi 24, Klongton, Klongtoey, Bangkok 10110
Contact Details: International call center: +66 (0) 2 160 4191 and +66 (0) 2 160 4192; Japanese call center: +66 (0) 8 9626 1965
Operating Hours: 9:00 AM to 8:00 PM, Monday to Sunday
| | |
| --- | --- |
| Google Reviews | 4.3/5 |
| MyMediTravel Reviews | 4.7/5 |
| Facebook Reviews | 4.6/5 |
| Total reviews | 4/5 |
| Score consistency | 4/5 |
| | |
| --- | --- |
| Expertise | 4/5 |
| Variety of Services | 5/5 |
| Customer Satisfaction | 4/5 |
| Value for Money | 4/5 |
Caters to international clients
Good ambiance
Friendly and professional doctors 
Issues of late email response from the clinic 
Pre-screening of procedures can result in higher costs
The Nirunda Clinic claims to be the leading international clinic in Bangkok, and we are happy to confirm that it lives up to this claim!
The facility's team of doctors is quite impressive, as it is composed of plastic surgeons, anesthesiologists, and dermatologists with many years of experience. Based on our survey results, patients are quite happy with the skill and professionalism of the staff.
Customers also consistently reported that the ambiance and overall feel of the clinic are top-notch. One look at the facility and you'll see that it is quite clean and well-maintained.
Most importantly, our respondents consistently praised the outstanding results of the procedures done in Nirunda Clinic. We are glad to find that our surveys support the glowing reviews about the clinic in online forums and discussions.
We were also quite impressed that Nirunda Clinic offers two options when it comes to lip injections, and these are Hyaluronic Acid and FAT Transfer. The former is a liquid implant for the lips, while the latter transfers fat to the lips to make them fuller.
The clinic's website may not have the procedure rates at the moment. Still, based on our respondents' positive responses and generally favorable reviews, we are confident that Nirunda offers fantastic value for money.
Another thing we appreciate is that its website also shows the world-class image of the clinic as it offers language options in English, Japanese, Chinese, and Thai. It's also commendable that it has a multilingual staff who can cater to locals and foreigners!
On the downside, we noted late responses from staff when coordinating via email, but this could be due to the volume of email inquiries handled by the clinic.
All in all, the excellent combo of expertise, variety of services, customer satisfaction, and value for money earns the Nirunda Clinic a spot among our best lip injections clinics in Bangkok.
3. Masterpiece Hospital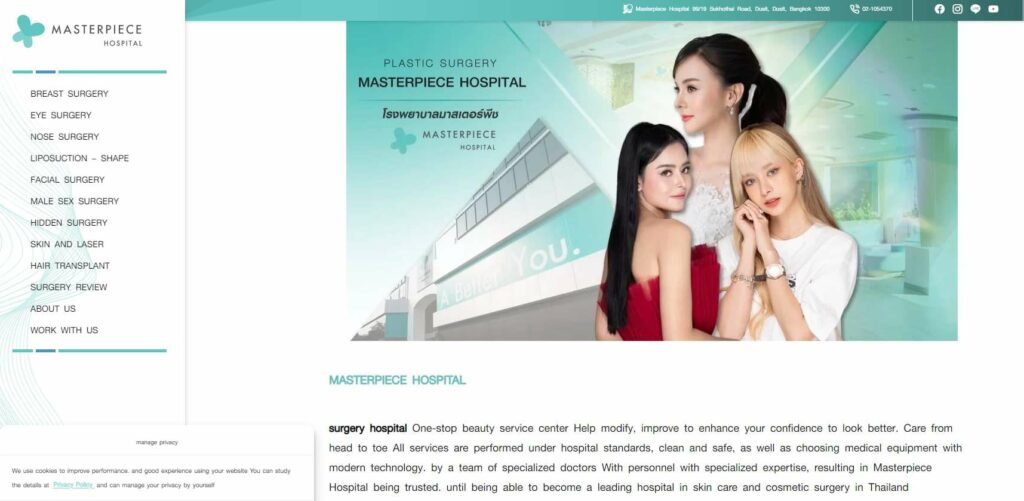 Services: Facial Surgery which includes forehead augmentation, facial fat transfer, endoscopic brow lifting, virgin kiss lips, cupid lips, bull horn lips, jaw reduction, cheekbone reduction, celebrity cheek, and chin augmentation
Website: https://www.masterpiecehospital.com/
Address: 99/19 Sukhothai Road, Dusit Sub-District, Dusit District, Bangkok 10300
Contact Details: (+66) 611944542
Operating Hours: 7:00 AM to 9:00 PM, Monday to Saturday
| | |
| --- | --- |
| Google Reviews | 4.1/5 |
| WhatClinic Reviews | 3.5/5 |
| Total reviews | 4/5 |
| Score consistency | 3/5 |
| | |
| --- | --- |
| Expertise | 4/5 |
| Variety of Services | 4/5 |
| Customer Satisfaction | 3/5 |
| Value for Money | 4/5 |
Doctors with specific fields of expertise
Beauty salon-like experience
Large bed capacity
Delayed patient coordination
Long wait times
Looking for a facility that serves as a clinic and a beauty salon? Then look no further than the Masterpiece Hospital!
Nestled in the Dusit District of Bangkok, the hospital looks modern and quite sizeable, occupying five floors of the building where it is located.
Masterpiece Hospital boasts a strong team of doctors with specific fields of expertise. Our team confirmed that Masterpiece Hospital can readily provide prospective clients with its medical team's credentials, providing them confidence in their procedures.
It's also commendable that we received consistent comments praising the doctors and staff at Masterpiece Hospital for their professionalism and excellent customer service. In addition, the patients also appreciate the good English skills of hospital personnel.
We think Masterpiece Hospital stands out as one of the best in Bangkok because of the various lip surgeries offered in this clinic, such as virgin lips, cupid lips, and bullhorn lips.
These options for lip injections may seem too much to take in at first. Still, patients will appreciate the detailed information provided by the clinic and its staff on what to expect before, during, and after lip injection procedures.
Based on our surveys, some patients found the prices of procedures to be a bit expensive. However, if the results of the procedures are consistently good, then we think we can claim that customers got their money's worth.
On the other hand, we must mention that one significant letdown for most patients is the long wait times in this hospital. But, we think this is mostly because of the volume of patients being handled by the hospital, given its popularity and reputation.
4. Yanhee Hospital Health and Beauty
Services: Cosmetic services (including lip injections), dental services, general treatment service, alternate medical services
Website: https://th.yanhee.net/
Address: 454 Charansanitwong Road, Bang O Subdistrict, Bang Phlat District, Bangkok 10700
Contact Details: 02-879-0300, 02-423-7900
Operating Hours: 8:00 AM to 8:00 PM, Monday to Sunday
| | |
| --- | --- |
| Google Reviews | 3.9/5 |
| Medical Departures Reviews | 4.5 |
| Total reviews | 5/5 |
| Score consistency | 3/5 |
| | |
| --- | --- |
| Expertise | 4/5 |
| Variety of Services | 5/5 |
| Customer Satisfaction | 4/5 |
| Value for Money | 4/5 |
Comprehensive medical services
All-in-one hospital for cosmetic and general services 
Has accredited Medical professionals
Delays in appointment schedule
Can improve patient coordination
For patients looking for an all-around medical and cosmetic clinic, Yanhee Hospital Health and Beauty may just be the best choice.
Located in Bang Phlat, Bangkok, this hospital offers a whole range of medical and cosmetic services. It has an impressive track record with 37 years of experience in surgery.
We found it impressive that the hospital has four main treatment centers handling procedures from diabetes management to cosmetic surgery. These centers are headed by experienced doctors certified by the Association of Plastic Surgeons of Thailand.
According to our respondents, the hospital provided them with some of the best services they had ever received. We also found it impressive how the patients claimed that they keep coming back to this facility because they are happy with its services.
The clinic offers two types of lip injection procedures, such as lip reduction and lip augmentation. This indicates that Yanhee Health and Beauty is a versatile and flexible clinic able to handle clients who need fuller lips or those clients who need thinner ones!
While we also like the fact that the cost of procedures is posted online. However, some respondents say that the hospital observes a dual pricing scheme and that foreigners may be charged more.
Meanwhile, based on the number of satisfied patients, our team is confident that this clinic offers good value for money.
Our team observed that some customers experienced delays in appointment schedules and patient coordination. We think this is caused by the large-scale operations of the hospital and by the volume of patients it handles daily.
Nonetheless, we are confident that Yanhee Health and Beauty should still be part of the top lip injection clinics in Bangkok due to its excellent services.
5. Tria Plastic Surgery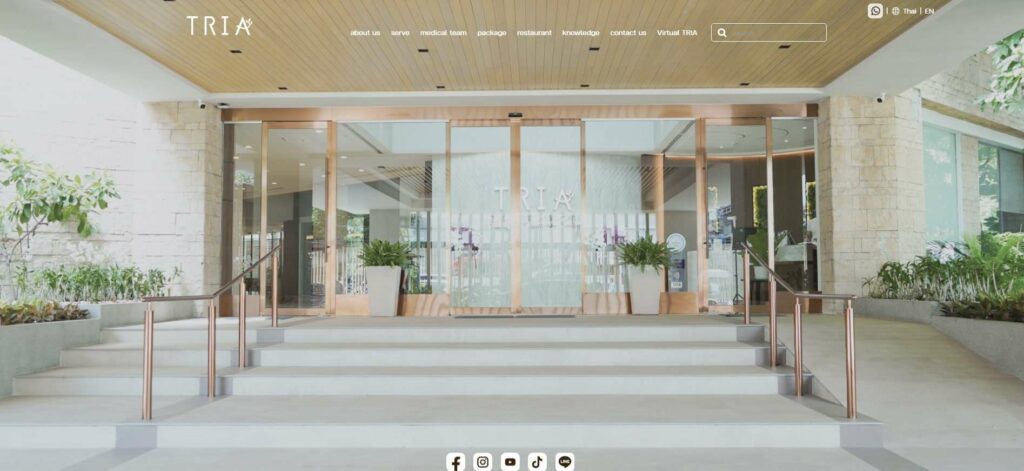 Services: Preventive and rehabilitation services, premium health check-up services, alternative medical services, aesthetic dentistry services, psychosocial services, and fitness services
Website: https://tria.co.th/
Address: 998 Rimklong Samsen Road (Rama 9), Bangkapi, Huaykwang, Bangkok 10310
Contact Details: +66 02129 5500
Operating Hours: 6:00 AM to 8:00 PM, Monday to Sunday
| | |
| --- | --- |
| Google Reviews | 4.3/5 |
| Trip Advisor | 5/5 |
| Medical Departures | 4.5 |
| Total reviews | 4/5 |
| Score consistency | 4/5 |
| | |
| --- | --- |
| Expertise | 4/4 |
| Variety of Services | 4/5 |
| Customer Satisfaction | 4/5 |
| Value for Money | 4/5 |
Reasonable rates
Has a holistic approach
Services are focused on health, beauty, and wellness
Offers healthy meals within the facility
Next on our list is Tria Plastic Surgery, a clinic that is best known for its holistic approach to beauty and wellness.
This facility in Huaykwang, Bangkok, claims to be an integrated beauty and wellness center. A quick review of its website revealed its goal of promoting beauty through its focus on enhancing its patients' minds and bodies.
Interestingly, its staff is composed of doctors cum professors who can provide a multi-disciplinary treatment.
The holistic and multi-disciplinary approach of the clinic can also be seen in the facilities of the clinic. The facade of the clinic itself promotes feelings of calm and zen. The clinic also has a spa, a gym, and a cafe serving healthy meals.
We are also pleased to report that respondents found the services of this facility to be quite excellent and effective. Not surprisingly, most comments include praise not just for the cosmetic services but also for the relaxing add-on services of the clinic.
Tria Plastic Surgery offers a type of lip surgery called lip refinement. As the name implies, this surgery aims to make the lips much more pleasing and refined, and based on client testimonials and actual results, we think this clinic is doing a really great job!
With the said results, we think we can confidently say that customers definitely got their money's worth when they availed of the services of Tria Plastic Surgery.
However, based on our research, some of the more common complaints of customers are the long wait times even with an appointment. The good thing is that patients can still wait in a relaxing environment while waiting for their doctor!
At the end of the day, we believe that Tria Plastic Surgery is one of Bangkok's best lip injection clinics because of its excellent track record and outstanding facilities.
FAQs on Lip Injections