The 6 Best Schools for Piano Lessons in Bangkok
How We Chose the Best Piano Lessons
Credibility
We gauged our ranking based on how credible these piano lesson providers are—whether they've been around long enough and if the lessons are at par with international standards.
Teaching Style
We looked for schools or instructors with excellent communication with students. A good teaching philosophy is also a great plus.
Facilities and Equipment
Piano lessons that provide enough reference materials, space to practice or perform, and even pianos for practice easily top our list.
Pricing
Learning to play the piano is a skill that can cost quite a hefty sum, but we love a piano school that offers quality education fitting for the price.
1. Yamaha Music School – Bangkok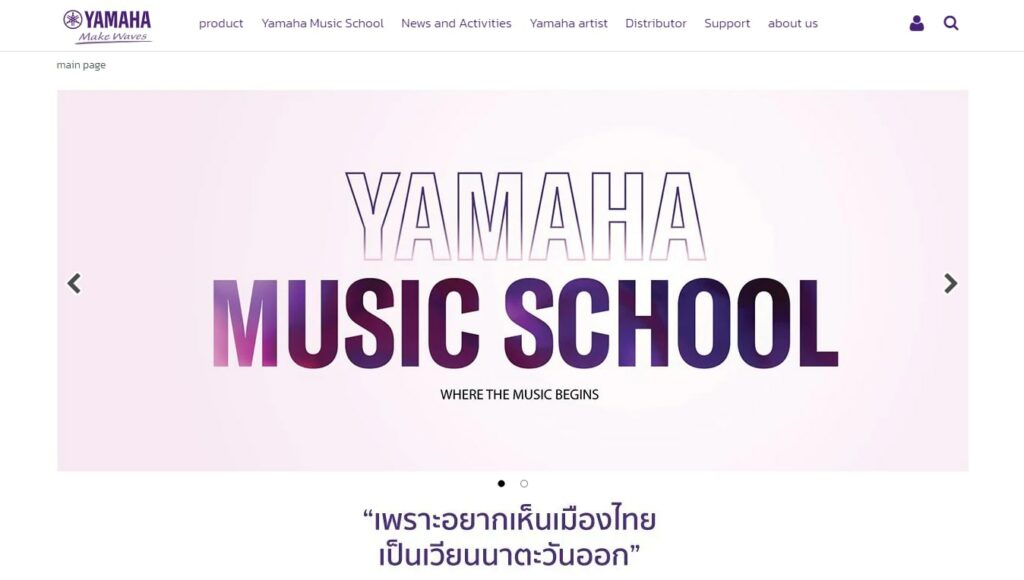 Services: Musical Instruments, Music Courses
Website: https://th.yamaha.com/th/education/index.html
Address: 891/1 Siam Motors Building, 4th Floor, Rama I Rd, Wang Mai, Pathum Wan, Bangkok 10330
Contact Details:
Tel: (+66) 83-540-9234
Line: https://lin.ee/SBKE5tY
Operating Hours: Daily, 8:30 AM – 5:30 PM
| | |
| --- | --- |
| Google Reviews score | 4.6/5 |
| Facebook Reviews rating | 4.6/5 |
| Total reviews | 3/5 |
| Score consistency | 5/5 |
| | |
| --- | --- |
| Credibility | 5/5 |
| Teaching Style | 4/5 |
| Facilities and Equipment | 4.5/5 |
| Pricing | 4/5 |
Famous and established music school in Thailand
Expert instructors
Good for beginner to advanced level
Over 25 branches in Bangkok
Can use pianoforte or Electone
Tuition may vary per branch
The Yamaha Music School is one of the oldest music academies in Thailand, established in 1966. Since then, it has cemented itself as a leader in music education in the country using the curriculum developed by the Yamaha Music Foundation of Japan.
Its head office is at the Siam Yamaha headquarters in Pathum Wan. Still, we focused on the Bangkok district/region for this review.
We love the accessibility of every branch. You won't have a hard time looking for a Yamaha Music School near you—it has more than 25 branches for piano lessons around Bangkok.
For the classes themselves, it offers junior piano courses for kids four years of age. There are also pianoforte and Electone (Yamaha's trademark electric organs) courses for five- and six-year-old kids.
We love the variety of classes and instruments!
On the other hand, typical piano lessons for teens and adults come from levels 1 to 12. One can choose between basic, pop, or classical piano courses.
The best thing about Yamaha is that you can select face-to-face, 30-minute individual lessons or one-hour group classes. There is also an online version of the piano lessons for easier access.
Since it's a well-established music school, you're sure of top-notch instruction from its expert teaching staff.
Tuition fees differ slightly per branch, so contact a Yamaha Music School near you for more details.
2. Peterson Piano Institute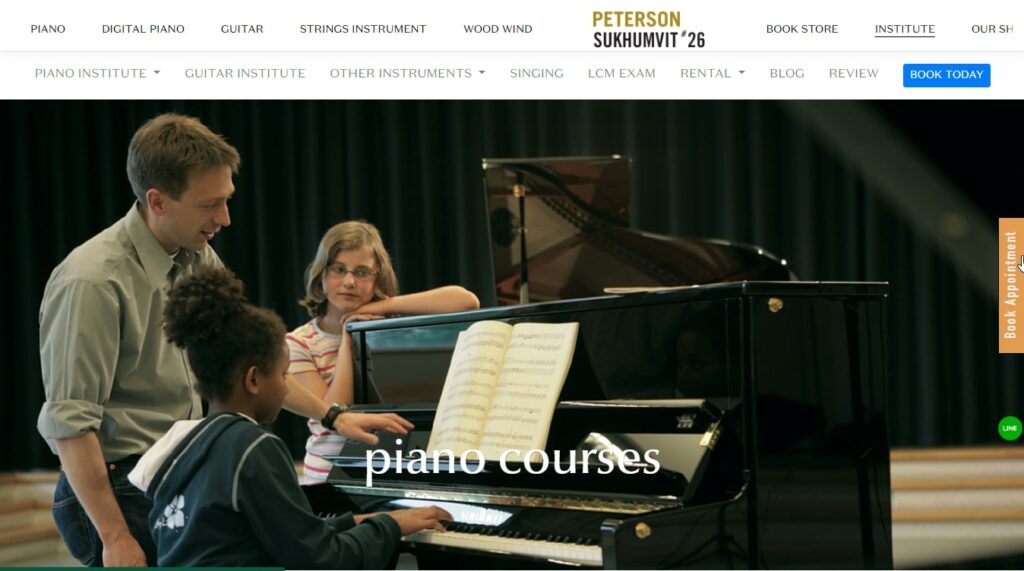 Services: Music Courses
Webiste: https://school.peterson.co.th/piano-course-detail.php
Address: 712/1 TBI ฺBuilding, 2nd floor, Sukhumvit 26 and 28 road, Khwaeng Khlong Tan, Khet Khlong Toei, Bangkok 10110
Contact Details:
Tel: (+66) 02-661-2160
Line: https://lin.ee/yfVAlZXt
Email: info@peterson.co.th
Operating Hours: Daily, 10:00 AM – 7:00 PM
| | |
| --- | --- |
| Google Reviews score | 4.4/5 |
| Total reviews | 5/5 |
| Score consistency | 3/5 |
| | |
| --- | --- |
| Credibility | 5/5 |
| Teaching Style | 4/5 |
| Facilities and Equipment | 4/5 |
| Pricing | 4/5 |
Can get you LCM-certified
Virtuoso instructors
Excellent facilities and equipment
Good for beginner to advanced level
Fair pricing
No online options
Focus only on classical piano playing
Peterson in Sukhumvit 26 does not only sell musical instruments but also has a music institute. Playing instruments such as the piano, guitar, and woodwinds is taught here.
For the piano, Peterson has beginner, intermediate, and advanced lessons. It offers courses from Prep Level 1 up to Grade 8 in group or solo lessons.

We just think it's too bad online learning isn't an option—but maybe face-to-face instruction is still the best.
Four-year-old kids up until adults can avail of these lessons. You can also choose between five playing styles: classical, pop, jazz, blues, or rock.
However, piano lessons at every level use classical pianos only. If you don't have your instrument to practice with at home, you can easily rent out one in Peterson's music store.
The best thing about the piano lessons here is that the qualifying exams are equivalent to the London College of Music Exam certification. We're impressed that Peterson Piano Institute's quality of education is at par with this prestigious music school.
As for the sessions, the typical course package comes in 10-12 lessons and costs THB 8,500 up to 36,000. For us, it's a fair price to pay for great lessons.
Peterson's facilities are excellent, and the teachers, aside from being award-winning virtuosos, are very kind to their students. Some of our respondents even vouched that this is one of the best music schools in Thailand.
3. Churairat Music School – Nawamin (Head Office)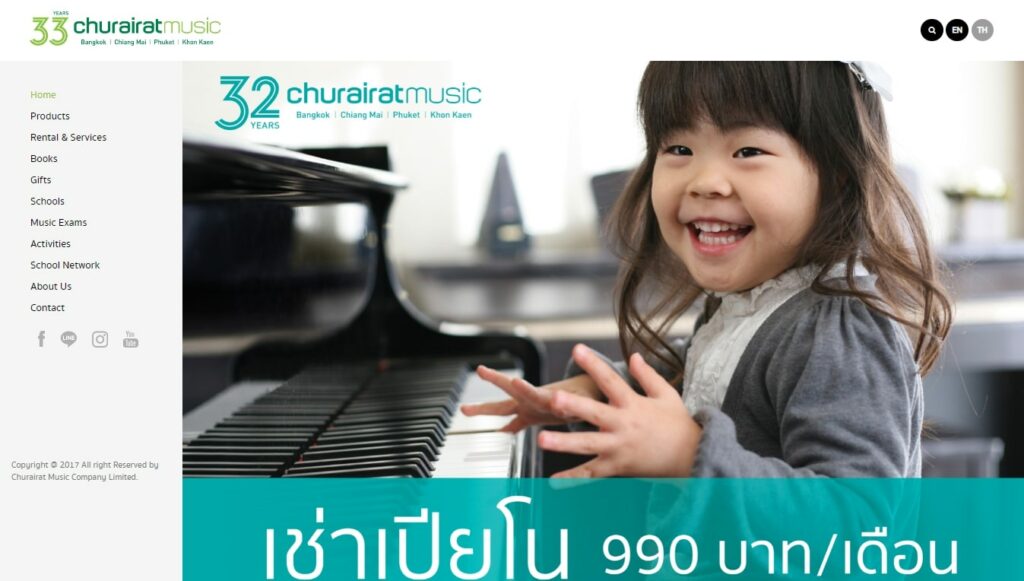 Services: Music Courses
Website: https://churairatmusic.com/schools/course/coursepiano
Address: 100/59-62 Nawamin Road, Bueng Kum District, Bangkok 10240
Contact Details:
Tel: (+66) 02-379-0891-3
Line: @ChurairatMusic
Email: Contact@ChurairatMusic.com
Operating Hours:
Monday to Friday, 9:00 AM – 7:00 PM
Saturday and Sunday, 8:00 AM – 6:00 PM
| | |
| --- | --- |
| Google Reviews score | 4.4/5 |
| Facebook Reviews rating | 4.9/5 |
| Total reviews | 4/5 |
| Score consistency | 3/5 |
| | |
| --- | --- |
| Credibility | 5/5 |
| Teaching Style | 4/5 |
| Facilities and Equipment | 4/5 |
| Pricing | 4/5 |
Over 30 years teaching piano lessons
Focus on teaching theory and practice
Great for students and teachers
Only two piano schools in Bangkok
Churairat Music is one of Thailand's most prominent music stores, established in 1989. It may not be known to many, but Churairat also has its own school created the same year it entered the music business.
Courses typically provided here are Taekwondo, the arts, pop music, contemporary singing, and piano playing. However, in Bangkok, piano lessons are only offered in the Nawamin (main) and Fashion Island branches.
Students aged five years and above are taught basic to advanced levels (Prep, Grades 1 to 8).
Another thing we found notable is that Churairat also provides training for piano teachers.
We are genuinely amazed by Churairat because it's the only music school we've seen with something to offer those who teach others to play piano. It's no wonder Churairat achieved more than 450 partners nationwide!
But, the best thing about piano lessons here is that music theory is focused on during the sessions. Furthermore, we like that lesson plans are personalized based on the skills and personality of each student.
Piano lessons at Churirat are also in line with the standards of respected musical educational institutions in England: the Royal Institution and the Associated Board of the Royal Schools of Music (ABRSM).
The packages for piano lessons start at around THB 2,600 to 3,700 a month for a one-hour individual lesson per week – pretty reasonable in our books!
Finally, we were delighted to learn that you can even rent a piano monthly for THB 900 in the Nawamin branch if you don't have your own piano yet!
4. Piano Academy of Bangkok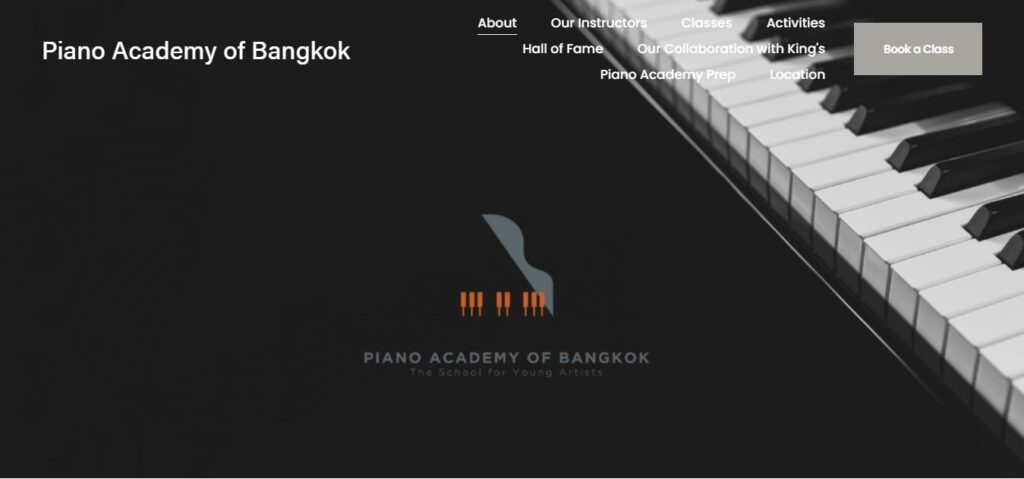 Services: Piano Courses
Website: https://www.pianoacademybkk.com/
Address: 283/90 Homeplace Office Building Floor 18th, Soi Sukhumvit 55 (Thonglor) Bangkok 10110
Contact Details:
Tel: (+66) 95-216-6375
Line: @pianoacademybkk
Email: PianoAcademyBKK@gmail.com
Operating Hours:
Monday to Friday, 1:00 PM – 7:00 PM
Saturday and Sunday, 8:00 AM – 7:00 PM
| | |
| --- | --- |
| Google Reviews score | 5/5 |
| Total reviews | 2/5 |
| Score consistency | 3/5 |
| | |
| --- | --- |
| Credibility | 4/5 |
| Teaching Style | 4/5 |
| Facilities and Equipment | 3.75/5 |
| Pricing | 4/5 |
Focus on enjoying music
Best for ABRSM and TRINITY exam takers
Great for beginner and advanced levels
Less than 10 years in business
Doesn't have its own performance facilities
The Piano Academy of Bangkok may be considered a newcomer on our list because it was established not so long ago. Yet, this piano school in Thonglor district definitely has many aces up its sleeve.
As its name suggests, the Piano Academy of Bangkok teaches people five years old and up how to play the piano. Total beginners, as well as advanced learners, can confidently walk in and enhance their skills in the instrument here.
The Piano Academy's leading service is helping advanced piano players acquire certifications from standardized musical exams such as the ABRSM and TRINITY. In fact, the Academy provides "artist classes" taught by concert pianists.
Notably, this academy boasts a long list of students who have won many competitions locally and internationally. This impressive aspect gives us great confidence in the quality of education the academy provides.
If you're still a novice piano player, do not worry! Although the teachers here are very experienced, they are also very dedicated to teaching beginners how to play.
We like that this academy offers quite a personalised service, too! Group classes would only have a maximum of four students, which gives the instructor ample time to focus on each student.
In the end, many of our respondents said that they enjoyed the instrument more after taking lessons from the teachers in this academy.
Perhaps the only downside of this institution is its seeming lack of facilities. Its office is in an office building, and we think it's quite an unfitting location for a business that needs space and soundproofing.
However, the good administrators of The Piano Academy are partners with the King's College International School of Bangkok. We think it's an excellent feature that this academy can use the school's outstanding facilities for lessons and performances.
5. Maytas Music Studio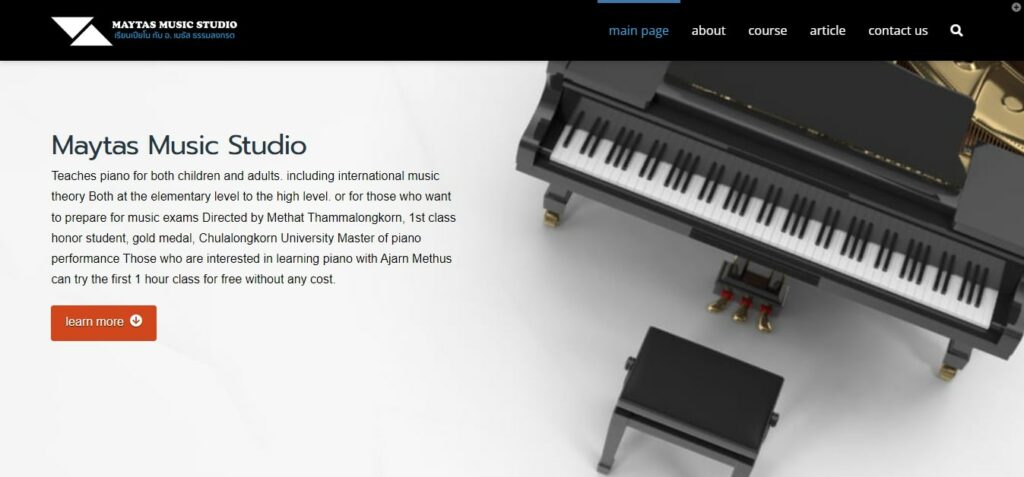 Services: Piano Lessons
Website: https://www.maytasmusicstudio.com/
Address: 128 Soi Santiphap 1, Khwaeng Si Phraya, Bang Rak, Bangkok 10500
Operating Hours: Always open
| | |
| --- | --- |
| Google Reviews score | 5/5 |
| Total reviews | 1/5 |
| Score consistency | 3/5 |
| | |
| --- | --- |
| Credibility | 4/5 |
| Teaching Style | 4/5 |
| Facilities and Equipment | 3.5/5 |
| Pricing | 4/5 |
Lessons are based on students' skills
Reachable at all times
Lessons for kids and adults
Great for piano exam takers
Free 1-hour trial lesson
No official email or Line account
Small player compared to competing schools
Maytas Music Studio is a music school specializing in piano located in the Bang Rak district of Bangkok.
It's led by Methat Thammalongkorn, a graduate of Chulalongkorn University who mastered Piano Performance. Notably, he is also a seasoned music teacher with years of experience under his belt.
This particular music studio caters to both children and adults. Music theory is taught at different skill levels, but ultimately, the intensity and flow of the piano lessons will be based on each student's skills.
Kids' piano courses have two tiers: one is for three to five-year-olds, and another is for six to 10-year-olds. Then, there are the typical adult piano lessons—but the duration and frequency are all up to you, which is a godsend for working people like us.
Moreover, Maytas Music Studio also offers lessons to help students prepare for the TRINITY, Yamaha, ABRSM, and other university entrance exams.
What we like the best about Maytas is its very hands-on approach during and after lessons.
For instance, we can't believe it's accessible via Facebook to its students 24/7. This feature is a great help to a novice piano learner who could have burning questions about his playing in the middle of the night.
Past and current Music Studio students love the instructors' overall teaching techniques here. The facilities of the studio are also clean and well-equipped.
However, we would have liked it better if it had more official communication methods. An additional official e-mail or an official Line account should be enough.
Nonetheless, as its staff are almost always available on their socials, interested students can inquire there and schedule for a free one-hour trial session.
6. PBW Clubhouse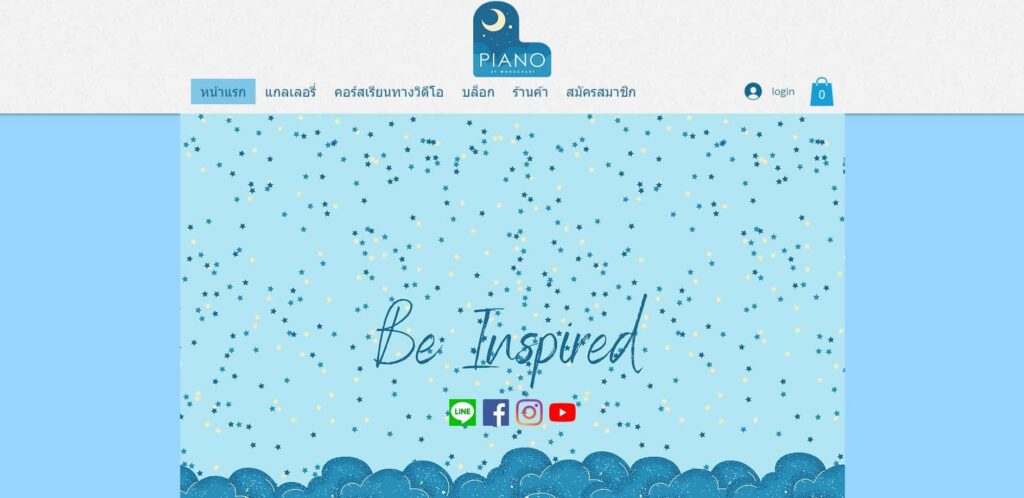 Services: English Lessons, Music Lessons, Dance Lessons, Mathematics, Programming
Website: https://www.pbwclubhouse.com/
Address: 230/8 Ladprao rd, Jompon Jatujak, Bangkok, Thailand, Bangkok
Contact Details: +66 89 443 6595 / info@pbwclubhouse.com
Operating Hours: Daily: 9:00 AM – 7:00 PM
| | |
| --- | --- |
| Google Reviews score | 5/5  |
| Facebook Reviews rating | 5/5  |
| Total reviews | 5/5 |
| Score consistency | 5/5 |
| | |
| --- | --- |
| Credibility | 5/5 |
| Teaching Style | 5/5 |
| Facilities and Equipment | 5/5 |
| Pricing | 4/5 |
Eloquent and certified musical instructors
Diverse and standardized music modules offered
Versatile and customizable delivery modes
Rates are subject to change
Website isn't in English
PBW Clubhouse is a company that offers clients a wide range of music lessons for clients aspiring to learn an instrument and other skills related to musicality. Taught by certified instructors, they have since then been delivering quality in-person and video lessons to their students.
We like that they are able to offer clients with aspiring children pianists with comprehensive and inclusive packages that are excellent to be tailored to their particular pace.
Furthermore, they also offer these courses with non-musical benefits such as confidence, poise, and self-esteem to help their students develop the said aspects of self-development while also learning to play their desired instrument.
However, their rates may differ should there be more customization options and additional services applied in lessons to which clients may need to inquire with them beforehand.
Overall, with their exemplary and highly experienced instructors, qualified and integrative approach to teaching such lessons, and comprehensive learning modules and materials, we highly recommend them to clients looking for musical instructors for their children.
FAQs on Piano Lessons in Bangkok