Categories >
Guides and Tips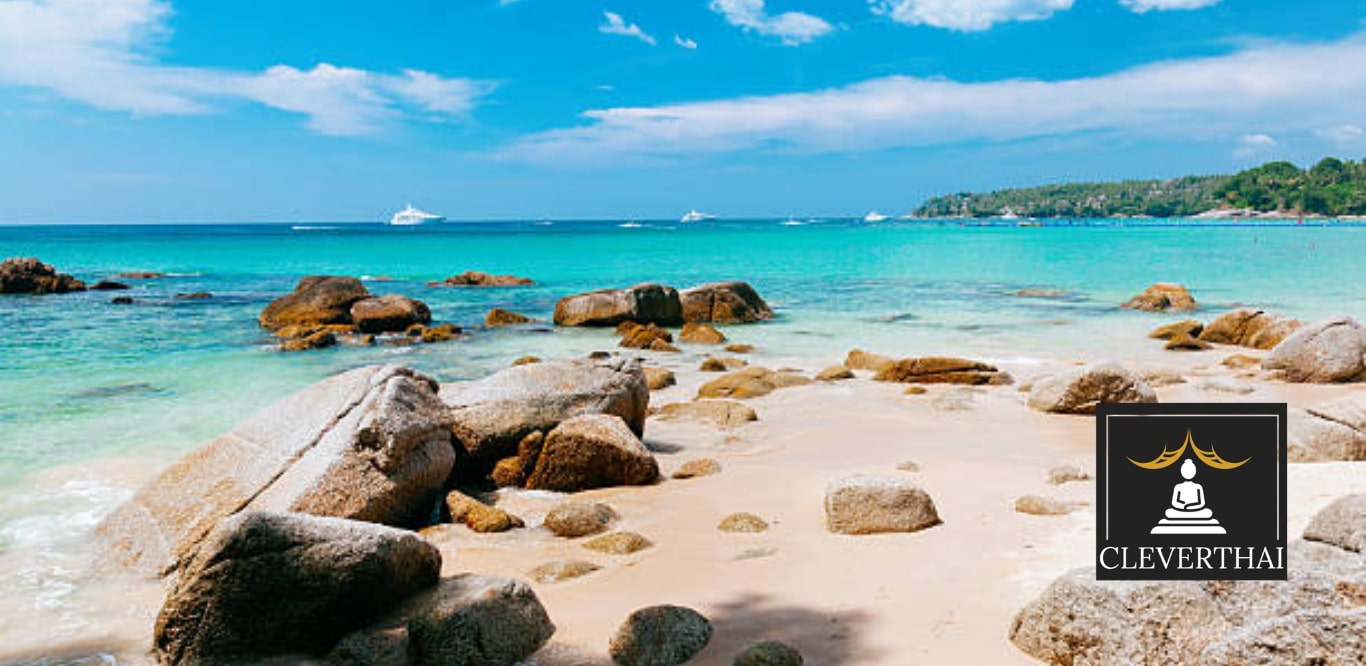 Your Ultimate Guide to Visiting Surin Beach
If you're planning a vacation to Surin Beach and have no idea where to go, eat, or stay, then we've got you covered!
Whether you're a first-time visitor or have been there multiple times, Surin Beach has so much more to offer than the usual beach-related activities.
Surin Beach is one of Thailand's most famous beaches. With perfect white sand and clear turquoise water it is a must-visit place when in Phuket.
The beach's calm and beautiful waters are also ideal for snorkelling, kayaking, boogie boarding, and surfing.
In this post, we'll look at Surin Beach and everything it has to offer. Read on, as our comprehensive travel guide to Surin Beach includes information on beach activities, eating options, lodging offers, and much more to help you plan your trip!
How to Get to Surin Beach?
Location: Surin Beach
The journey to Surin Beach can be done by taking any bus or train from Bangkok to Phuket Town. Once you reach Phuket Town, you can take a taxi, rent a car, ride tuk-tuk, songthaews, or local bus to reach Surin Beach.
By taxi, private vehicle, From Ranong Road in Phuket Town, you can take a songthaew to Surin Beach. The songthaews operate from 7:00 am to 5:00 pm for a fee of approximately 30 THB.
After that, taxis and tuk-tuks are your only options. A tuk-tuk from Surin Beach to Phuket Town will cost roughly 800 THB.
NOTE: A cab stand is located near the beach entrance. Alternatively, consider a ride-sharing app like Grab.
What is the best time to go to Surin Beach?
Surin is best visited during the dry months of November to March. Visitors can freely traverse this city during this time of year and occasionally participate in the Elephant Festival.
What to see in Surin Beach?
Surin Beach is also an excellent choice for anyone looking for recreation and adventure, with its many different activities!
If you're looking for an exotic beach retreat or a peaceful family vacation, Surin Beach is the ideal spot. With its immaculate beaches and unmatched Andaman Sea views, it is no wonder why it's among Thailand's most stunning vacation spots.
If you're planning on visiting Surin Beach anytime soon, here are the top scenes we recommend to explore :
1. Visit the Green Elephant Sanctuary Park.
Surin Beach is only 10 minutes away from the Green Elephant Sanctuary Park. The park is situated in the heart of the beautiful jungle.
It is an elephant sanctuary where visitors may observe elephants in their natural environment and even get up close and personal. Since it is situated in the centre of a sizable jungle, elephants can live there with comfort.
Additionally, the sanctuary is among the only shelters that put an emphasis on caring for and safeguarding elephants. In fact, a lot of the gentle giants in this area were rescued from cruel parks.
2. Visit Pansea Beach.
Another beautiful beach in Phuket is called Pansea, but only visitors at The Surin and The Amanpuri Resort are permitted to use it.
The beach stretches about 400 metres along Phuket's west coast. This sandy area is close to the stunning Surin Beach and is separated from Surin by a small rocky point.
Coconut trees and numerous other exotic trees and plants line the shore. The entire length is a tranquil place to enjoy sundowners in the evenings, while both ends provide excellent snorkelling chances throughout the day.
3. Explore Laem Sing Beach.
Laem Singh Beach is located between Kamala and Surin beaches on Phuket's west coast.
One of Thailand's most stunning beaches, it's especially well-liked by tourists who wish to see a true Thai beach without having to deal with the crowds that occasionally gather at more well-known locations.
If you're searching for more than just sunbathing, there are many things to do there. You can swim or just relax on the sand here, but if you prefer snorkelling or diving, this is a great place to start your trip.
NOTE: If you're visiting during the peak season, bring a beach towel or beach blanket in case sun loungers are no longer available.
Enjoy the scene at Laem Sing Viewpoint.
The Laem Sing Viewpoint is the next stop, and it's nice that it only takes less than a hundred steps to get there.
The view from Laem Sing Viewpoint is truly majestic. You'll be greeted by the glittering sea and a stunningly green landscape, with mountains in the distance.
It's a popular spot for tourists, but many locals also come here to relax.
The fun part is the breathtaking view is accessible to persons in wheelchairs and those who are no longer able to walk.
TIP: Drones are permitted but are subject to local/national regulations.
What to do in Surin Beach?
Surin Beach is one of the most popular destinations in Thailand. It's often called the "Coconut Island" due to its many coconut trees.
The beach itself is a serene scene of crystal-clear waters and white sand. The water is warm and inviting, making it an ideal place for surfing and swimming.
If you're looking for a delightful weekend getaway with your friends or family or just want to escape from your daily routine for a little while and relax on a beautiful beach surrounded by lush foliage, then Surin Beach is definitely worth checking out!
To help you plan your trip, we've listed some of the best things to do on Surin Beach.
1. Pamper yourself at a spa.
Surin Beach is also a great place to get pampered – perfect for the ultimate relaxing vacation!
Start with an hour-long massage at one of the many spas in town. You can find these on every corner—and they're usually pretty affordable, too!
Spas on Surin Beach offer everything from massages to facials to body wraps—you name it!
2. Enjoy doing watersports.
Due to its reputation as one of Thailand's top surfing locations, Surin Beach has grown to become one of the nation's busiest beaches.
The waves here are perfect for beginners. They can be challenging enough for experienced surfers but not so challenging that they'll wipe out a newbie trying out their first wave.
If you're looking for something more laid back than surfing, try paddle boarding or kayaking. For those looking for variety, Surin has other accessible activities, including boogie boarding, stand-up paddle boarding, and scuba diving.
Moreover, the water is shallow here so it's perfect for kids who want to play around safely, so parents wouldn't need to worry too much.
TIP: Kayaks are especially popular on the secluded Pansea Beach, which can only be reached by sea or through nearby hotels.
3. Relax on the beach.
The beach's pristine sand and crystal-clear seas make it the ideal location for lounging on the shore and spending time with friends and family. It is also a great location to unwind in a hammock and catch some rays.
Moreover, Surin Beach is a good place to unwind for people seeking relief from crowded tourist sites.
And although the beach gets pretty crowded during peak season, it still has relatively fewer visitors when compared to the popular beaches like Patong and Kata.
To add to the mundane relaxation activities on the beach, there are also hawker stalls around the parking lot that sell fresh produce, drinks, and snacks.
Hawker centres are open-air retail stores, often with two or more floors where people cook on a permanent stall. Although these booths frequently have a wide public seating space, they occasionally have their individual seats.
This enables everyone in your group to try various meals from different stalls.
NOTE: Beach chairs and umbrellas can be rented from local beach merchants.
4. Shop at The Plaza Surin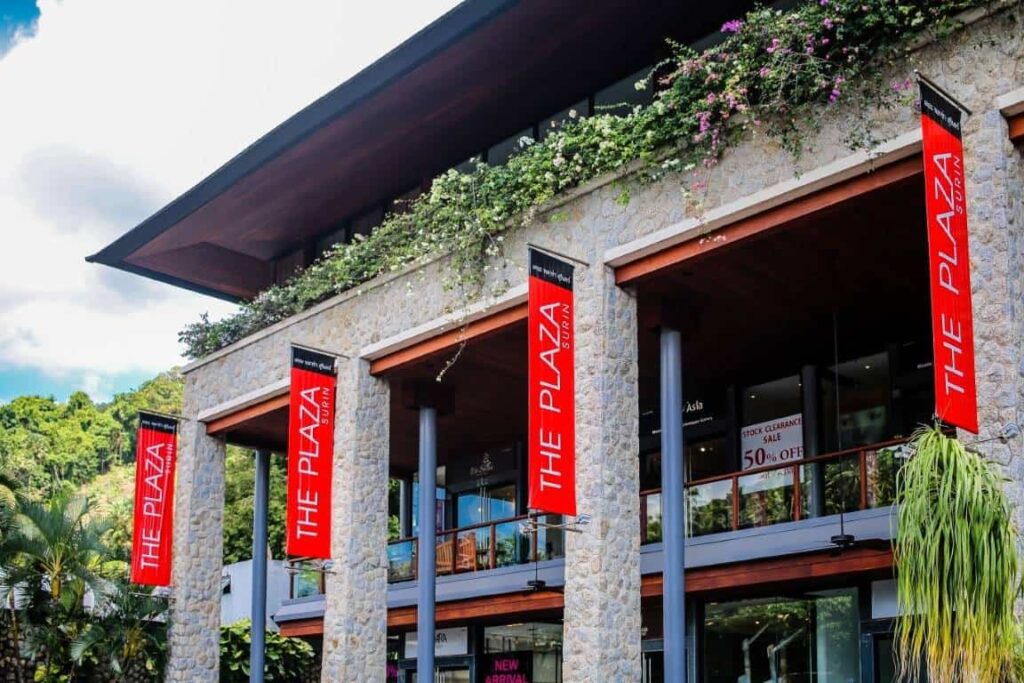 Location: The Plaza Surin
The Plaza Surin is home to a number of boutiques that offer an amazing shopping and dining experience.
This shopping plaza has something for everyone, whether you're looking for modern Thai furniture, innovative art, all-natural spa items, high-end audiovisual equipment, or stunning silk clothing.
It's approximately 650 metres from Surin Beach, so you'll only need to walk westward for 10-minutes to get to this fabulous shopping centre.
The Plaza is easy to spot because it is located on the access road, directly in front of the Siam Commercial Bank Cash Deposit Machine.
Where to eat in Surin Beach?
It can be challenging to decide where to dine in Surin because there are many possibilities, but we listed some of the most popular restaurants in the area to help you out.
The restaurant options at Surin Beach range from Thai food to Western food.
Here are the top seven restaurants in Surin Beach to see what matches your palate.
TIP: The southern end of the beach has a number of food stands that serve snacks, freshly prepared hot meals including phad Thai and green curry, as well as cold beverages like beer and fresh coconut.
Where to stay in Surin Beach?
There are several stunning resorts relatively close to Surin Beach, and most of them are luxurious ones with a hint of modern architecture.
So, to help you plan for your next staycation, we've prepared a list of some of our favourite hotels around Surin Beach.
Why should you visit Surin Beach?
Surin Beach is a great getaway because of the sheer number of things to do in the area. There are several other beaches and waterfalls nearby for you to visit, which means that you'll never be lacking for new activities during your trip.
If you are looking for a nice week away from the city, this is the ideal destination. It's a great option for any type of traveller or vacationer, and it has plenty to offer those who love the sun, the sand and a little shopping with their beach time
TIP: If you are not staying at a nearby hotel or resort and are simply visiting to relax on the beach or swim, keep in mind that restrooms and public facilities are limited.
FAQs about Surin Beach