Categories >
Guides and Tips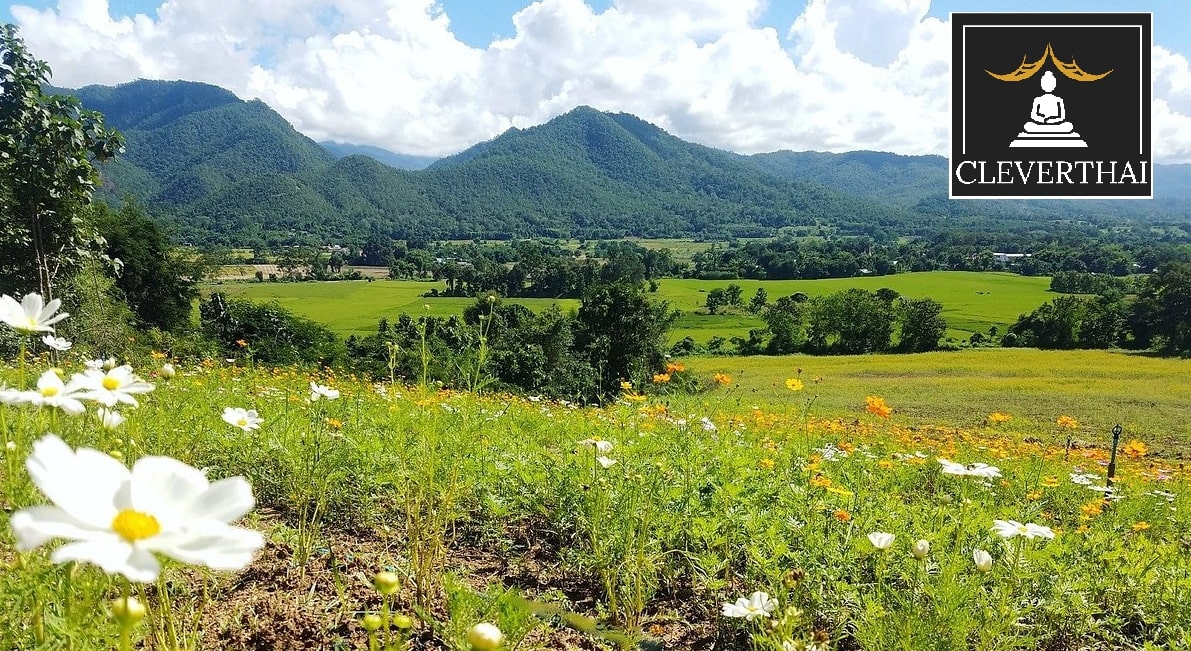 The Ultimate Travel Guide to Pai, Thailand
We can't blame you if you just heard of Pai, Thailand. It was recently discovered as a tourist hidden gem and has started to draw quite a touristy crowd–although not as much as the crowds we've seen in Phuket and Koh Samui.
How did a region formerly known for excessive weed smoking and heavy drinking become such a great option for tourists and backpackers? Read our ultimate guide to Pai, Thailand to better appreciate the beauty and the majesty of this mountain paradise!
Time Zone
Indochina Time (UTC+7:00)
Best Time to Go
Your best bet to get the most out of your visit to Pai, Thailand is to travel here from November to February. During this period, the weather is mostly pleasant and relatively cool.
We recommend that you avoid travelling to Pai from April to June as visiting during this period isn't ideal since these are the hottest and most humid months.
March isn't an ideal month to visit as farmers burn their fields during this time, resulting in some air pollution that you may find uncomfortable and even irritating.
Things to Know
Currency: Baht (THB)
(Check the current exchange rate)
Language: Thai
Calling Code: +66
What to Expect
— From @slice-of-life
Pai, Thailand has a very laid-back vibe that you'll find quite infectious. We certainly think the area draws visitors in thanks to the relaxing mood of the place and the beautiful scenery surrounding the locale.
A quick scan of Pai's surrounding environs will show you exactly why this is like a paradise on Earth—the friendly locals, the bungalow overlooking the fields and the trees, the hammock in front of each home, and the surrounding mountains of Pai.
How to Get to Pai from Chiang Mai
Pai is located in the northern part of Thailand and is located almost three hours away from Chiang Mai. It's a small town situated in the country's Mae Hong Son Province, near Thailand's border with Myanmar.
Getting to Pai from Chiang Mai is quite easy. Here are some transportation options to consider:
Mini Bus: This mode of transportation is the most common option you will encounter if you want to travel from Chiang Mai to Pai. We recommend booking tickets in advance or online as buying a ticket on-site is possible but it can take some time.
There are two different types of minibuses in Pai: a tourist van and a government-run bus. Both types can get crammed with tourists real quick and may present some problems on "zigzaggy" roads—bring an anti-sickness medication just in case!
Bus: Buses are another practical public transportation option for you if you want to travel from Chiang Mai to Pai but we suggest that you book your bus tickets in advance as they can get crammed real quick.
Private Car: Going to Pai via private car is your best option if you're travelling with a group. The best thing about getting a private car is that you get to be in control of your own schedule and leave when you want to.
Taxi: Getting a taxi is also an option especially if you're coming from the airport and heading towards Pai. Keep in mind that this mode of transportation can get pricey but if you're travelling with friends or family, then paying extra should be a good value for money.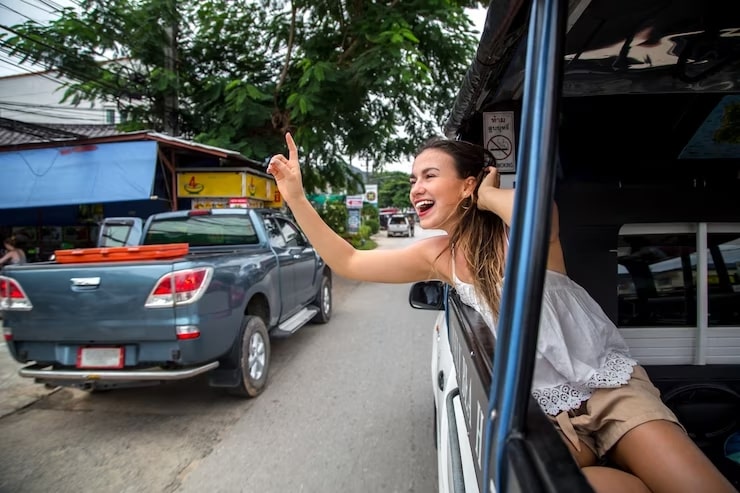 Where to Stay in Pai
The Jazz House
Website: https://www.facebook.com/JazzHousePai/
Address: 24/1 moo3 Vieng Tai Pai District, Mae Hong Son 58130, Thailand
Contact information: +66 61 923 6689
Backpackers love this hostel and we're certain you will too. It's one of the best hostels in the area and offers a lot of social interactions with other tourists and travellers— the perfect opportunity if you want to make new friends!
What's more, you'll also get other amenities if you choose to stay in this hostel. These include hot breakfasts and open-mic night Sundays.
Rim Pai Cottage
Website: https://www.rimpaicottage.com
Address: Pai, Pai District, Mae Hong Son 58130, Thailand
Contact information: +66 53 699 133
This Airbnb is literally located near the river and if you book with them, you get an entire cottage all to yourself! There's an outdoor pool and a common area for guests making it one of the best Airbnb options in Pai.
The best part of staying here though, is that you get to enjoy that beautiful Pai sunrise from your tranquil cottage.
Prilpai Guesthouse
Website: https://www.instagram.com/prilpai.guesthouse/?hl=en
Address: Mae Hi, Pai District, Mae Hong Son 58130, Thailand
Contact information: +66 52 041 128
We liked this hotel due to its location and accessibility. While it's still located in a location with enough greenery, it isn't too far away from Downtown Pai, giving you access to various necessities such as restaurants and convenience stores.
Aside from being quite affordable, we're certain that you'll love your stay at Prilpai Guesthouse due to the savoury breakfast served daily and the ultra-fast wifi offered to all hotel guests. Simply one of the best hotels that you can check out in Pai!
Where to Eat in Pai
Na's Kitchen
Website: https://www.instagram.com/nas.kitchen/?hl=en
Address: 9C5R+2HG, Wiang Tai, Pai District, Mae Hong Son 58130, Thailand
Contact information: +66 81 387 0234
Business hours: 5:00 PM to 10:00 PM, Monday, Wednesday to Sunday, closed on Tuesday
Most tourists here will probably overlook the rickety exterior of Na's Kitchen but if they check this place out, they'll find some of the best Thai dishes being offered in Pai. Plus, you don't have to break the bank when eating here thanks to their affordable pricing.
You can try their menu out which includes seafood and vegetables and pair them with some refreshing fruit shakes. Their delicious menu and the local vibe of the establishments make this one of the best Thai restaurants in Pai!
Carrot on the Moon
Website: https://www.instagram.com/carrotonthemoon/?hl=en
Address: 244, Wiang Tai, Pai District, Mae Hong Son 58130, Thailand
Contact information: +66 80 125 3151
Business hours: 9:00 AM to 5:00 PM, Tuesday to Thursday, 9:00 AM to 8:00 PM, Friday to Sunday, closed on Monday
Carrot on the Moon is a hostel and cafe all rolled into one and you'll find its modern interior to be quite refreshing. It follows a glass house theme but we really liked the fact that the cafe is air-conditioned– perfect if you want to cool down from the Thai heat.
The cafe can offer you some basic coffee products such as cold and hot beverages. However, we liked that vegans can get milk alternatives to ensure that they stick to their diet and lifestyle, making it one of the best and most versatile cafes here.
What to Do in Pai
Visit and be amazed by the Tham Lod Cave
Operating hours: 8:00 AM to 5:00 PM, Monday to Sunday
Tham Lod Cave is a cave system near Ban Cha Bo Hill. In our books, it's an interesting place to explore that also has great archeological value—if you're into that kind of stuff!
It was an ancient burial ground during the Pleistocene to the Holocene period. In fact, archeologists found the skeletal remains of homo sapiens in Tham Lod!
You can visit three different sites when in Tham Lod cave. The price you need to pay will all depend, of course, on how many sites you plan to visit:
One cave (Sao Hin) for 200.00 THB
Two caves (Sao Hin and Tuk Ta Cave) for 250.00 THB
Three caves (Sao Hin and Tuk and Pi Man) for just 500.00 THB.
Pro tip:

We recommend going for the three-cave package (500.00 THB) to get your money's worth and also get the chance to see the beautiful cave system here in Pai!
Enjoy the view along Chiang Mai- Pai- Mae Hong Son Road
If you're fortunate enough to drive from Mae Hong Son to Pai, then we recommend that you stop at two specific viewing points along the way–Doi Kiew Lom and Pang Mapha Viewpoints.
Just pull your vehicle off to the side of the road and enjoy the majestic and tranquil views offered by these spots. What's more, you'll find that reaching these viewing points are easy to access and have ample parking space for your vehicle.
Pro tip:

You can stay chill and relaxed while driving to these viewpoints due to the scenic route of this road and the ample parking space waiting for you when you get to the viewing spot.
Chill out at Sai Ngam Hot Spring
Operating hours: 8:00 AM to 5:00 PM, Monday to Sunday
If you are anything like us, then you probably want to swim in some hot spring to just chill out and relax. Fortunately, Pai has a Sai Ngam Hot Spring for visitors to enjoy.
You'll find this activity to be quite relaxing despite a cold day thanks to its warm flowing thermal waters. We also fell in love with the area's more than adequate shade owing to the trees surrounding the hot spring.
Plus, Sai Ngam Hot Spring isn't just all-natural formations. If you need to change or eat some lunch, there are changing rooms and seating areas scattered across the site.
Pro tip:

You can bring some food items when you visit this hot spring as the site has available tables and chairs for guests to use. We also recommend bringing an extra set of clothes just in case you change your mind and go for a dip!
Bask in the majesty of Mo Paeng Waterfall
Operating hours: 8:00 AM to 5:00 PM, Monday to Sunday
Swimming in a multi-level waterfall is certainly an Instagrammable moment. You can live out this spectacular photo opportunity once you visit Mo Paeng Waterfall!
If you want to have some fun here, you can climb to the side of the waterfall before sliding down some slippery rocks to swim in the refreshing pond located at the bottom of the falls.
Pro tip:

Don't forget to slide down this waterfall right before swimming in the refreshing pond located at the bottom of Mo Paeng. Also, we recommend that you bring a waterproof phone to capture those fun moments even while swimming!
Shop for good finds at the Pai Night Market
Operating hours: 6:00 PM to 10:00 PM
Each night, Pai's main street turns into a night market where you and other eager shoppers can score different street food items and small trinkets.
We recommend visiting this night market if you want more exposure to Pai's local cuisine. You shouldn't miss trying out their sesame-seasoned Black Sticky Rice or their spicy khanom chin (traditional rice noodle dish of Pai).
Pro tip:

Don't forget to haggle when you buy from Pai's night market. Also, we recommend that you prepare some cash when buying from the food stalls here as vendors will only accept cash as the mode of payment.
Discover the allure of Pam Bok Waterfall
Pam Bok Waterfall is located in the southern mountains of the province and is quite secluded which gives it a photogenic flair.
Its first level doesn't look too impressive, though. But as you make your way up to the upper levels of the falls, you'll see the breathtaking views of the surrounding area.
Pro tip:

Young children can enjoy the shallow water of this waterfall as it's not deep enough for a swim. However, the area is gorgeous so prepare to have enough phone memory space for you to take a number of photos!
Stroll through the Buddha Bamboo Bridge
Buddha Bamboo Bridge is a tourist attraction laid out on a rice field that runs up to the horizon. This bridge was built and used by monks back in the day but you can use this area to walk around.
Pro tip:

Bring your favourite beverage with you as you can just sit and laze around this structure while enjoying the beautiful view of the surrounding rice fields. Coffee or tea, anyone?
What to Expect from Pai Weather
Dry Season: Pai enjoys its dry season from November to May. During the dry season, the coldest month is January while February is the driest month.
We recommend that you visit Pai during these months to fully enjoy your stay here without having to worry about rain showers or storms.
Wet Season: The wet season in Pai occurs from June to October. We strongly suggest that you avoid visiting Pai during the rainiest months of the region (July, August, and September) as the frequent rains can hamper your planned activities.
Apps to Download for a Trip to Pai
Grab: Ride-hailing, food, grocery, and delivery services
Line: Call and messaging, file sharing
Klook: Book tours, attractions, tickets, restaurants, hotels, and other activities
Agoda: Book hotels, flights, and other activities
Google Maps: Area map, location finder, route planning, and route updates.
Google Translate: Word translation with offline functions